Avent was the first company that introduced baby bottles with anti-colic system in 1984. Since then they have been continuously improving their product and exceeding customer expectations. Avent definitely have an experience and technology but ultimately the choice if the bottle is meet expectations is always up to the baby.
---
Independent tests run in 2012 proved that vast majority of babies accepts Avent bottles. Their very wide and breast shaped nipple makes them ideal choice for breastfed babies and they score exceptionally good notes in customers' reviews given by breastfeeding mothers. All Avent bottles are free from BPA, phthalate, latex and heavy metals. They are either made of plastic or natural, eco-friendly glass (most popular and widely recommended by pediatricians).
---
Video presentation of Philips Avent Natural baby bottle:
Important – this review features new series of Avent Natural bottles that consist of only 3 parts. Old Avent bottles had an infamous o-ring, which just add one more part and caused leaking if missing. The present Avent Classic series bottles also come with an o-ring, these bottles will be discussed separately.
Design and features of New Avent Natural Bottles
Avent Natural bottles are designed to offer the optimal, most natural way to bottle feed. Philips recreated feel, shape and function of natural breast which makes these bottles the most popular choice among breastfeeding moms. They not only facilitate proper latching on but also, thanks to advanced twin-valve system and slow flow nipple, recreate the natural mechanism of milk expression when you nurse your baby.
The wide nipple features two air valves. They prevent negative pressure creation and enable your baby to feed in a natural, colic-free way reducing occurrence of reflux and painful gas. Avent bottles are clinically proven to reduce incidence of colic in babies.
The patented one way valves let the air in preventing vacuum creation but do not let any liquid out. As a result there is no leaking no matter what position you hold the bottle. Similar technology featuring nipple with built-in valve can be found in Tommee Tippee  bottles (see our review of Tommee Tippee bottles).
Nipples for these bottles are available in four different flow rates which enables perfectly matching the supply of the milk with baby's needs. This also makes this nipples easily accepted by babies as reported by number of moms. Due to a special construction featuring unique petals the nipple is considerably more flexible and resembles mother's nipple. These petals also prevent nipple from collapsing even when sucked at high pace. This result in more comfortable and natural feeding experience for your baby.
Wide neck of the bottle also make them easier to clean and fill with milk or formula. The wide ergonomic shape provide comfortable and firm grip for the parent and enables older babies to easily grasp the bottle with their small hands. Clear measurements on the side of the bottle makes it easy to read the exact amount of liquid in the bottle.
>Check discounted price of Avent Natural bottles on Amazon<
What make these bottles to stand out?
Unique twin-valve system aimed at reducing colic makes this bottle extremely popular among both parents and doctors.
Breast mimicking nipple established them to be a preferred choice for breastfeeding mothers.
Wide shape helps in cleaning, filling and holding of the bottle.
Compatibility with other Avent accessories (especially with hugely popular Avent manual pump).
Availability and sizes
Philips Avent Natural bottles come in 4, 9 and 11 ounces versions. They can be purchased individually, in two, three and four packs.
Pros:
wide nipple with built-in air vents;
ergonomic design;
wide neck enabling easy cleaning and filling;
attractive price.
Cons:
Being made of plastic they suffer from all typical for plastic bottles problems. Over time, due to high temperature exposure the clear plastic may turn brownish. If washed with brush they may get scratched.
>Check discounted price of Avent Natural bottles on Amazon<
---
Avent Natural Glass bottles review
Avent Natural glass bottles feature exactly the same shape as their plastic counterparts. The nipples are also the same so in terms of anti-colic and breast like feeding experience for your baby these bottles are identical.
Avent Natural bottles are made of hard and durable borosilicate glass. This makes them thermoresistant and very unlikely to break. Being glass, however, it is possible to break them therefore it is recommended to use them with a special protective silicone sleeve. The sleeve acts as a cushion if dropped on a hard floor. Thanks to its texture it provides slip-free grip. The additional layer around the bottle acts as a thermal insulation making the milk to stay warm for much longer. Silicone sleeves are dishwasher safe and can be washed and sterilized without taking them off from the bottle.
>Check discounted price of Avent glass bottles on Amazon<
Thanks to the material used these bottles are much more resistant to scratching than plastic ones. This results in much easier and faster cleaning. They will not stain from food over time nor retain the smell of food and detergents.
This is the most eco-friendly option for your household. The glass bottles also are the safest way for your baby. Although virtually all baby bottles in the USA are BPA-free plastic bottles contain various BPA substitutes. They are probably safe but BPA was introduced in 1957 and only fifty years later scientists discovered it to be harmful. This ultimately led to the FDA ban in 2012. It's hard to say what will scientist discover in today's plastics in 50 years' time so glass seems to be a safe option.
Avent glass bottles come in 4 ounces and 8 ounces and are sold individually, in two and four packs.
Pros:
made of natural, safe materials;
will not scratch or discolor over time;
transfer heat faster than plastic so less time waiting for the milk to warm up.
Cons:
Being glass they are heavier than plastic bottles of the same size.
>Check discounted price of Avent glass bottles on Amazon<
Tip: Sleeves for these bottles are difficult to buy. Its best to buy them along with the bottles. They may be found >here<
---
Avent Classic bottles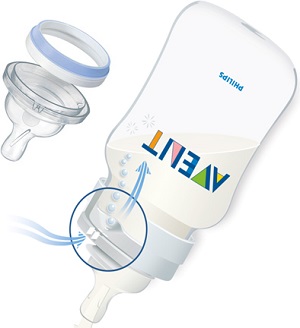 These have been on the market for over 20 years. In contrast to Avent Natural bottles they comprise four (not three) parts. The o-ring in these bottles has to be used to properly seal the bottle. It has to be screwed not too tight and not too light. This infamous o-ring caused many people a lot of trouble and has been criticized in countless reviews.
Avent Classic bottles feature a different nipple which is available in 5 flow rates. These nipples are not interchangeable with Avent Natural nipples.
Bottom line:
Unless you have some fetish for this bottles you better buy Avent Natural.
---
Summary of our Avent bottles review
Pros:
wide nipple that closely mimic mothers breast;
air vents reducing air swallowing, colic, gas and reflux;
ergonomic design;
wide neck enabling easy cleaning and filling;
attractive price;
available plastic or glass.
Cons:
silicone sleeve for glass bottles is not included.
Tips
If you are using a breast pump and want to save some time and also have less items to clean you may consider expressing directly into the bottle. Avent bottles can be used directly with the renowned for its quality Avent manual pump. You can store the milk in the bottle (special caps are available) or feed your baby straight away. If you use or planning to use Medela electric pump (unquestionable leader in electric pumps) there is a special adapter (around $5) that enables to express directly into Avent bottles. For more info about pumps see our comprehensive review of manual pumps and electric pump review.

When buying Avent bottles make sure you buy the version without the o-ring (unless you really want to). They are not clearly marked. In internet stores there should be a description – make sure to read it. This for example is the o-ring free Avent Natural bottle.