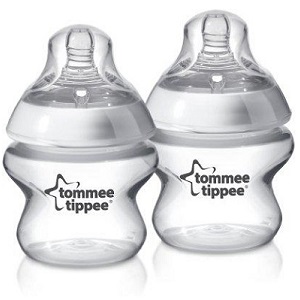 Tommee Tippee (TT) has been on the market for decades and offers a wide range of quality accessories for babies such as bottles, nipples, pumps, monitors and many more. Their new Closer to Nature bottles are designed to mimic mother's breast. Wide neck bottles with wide nipples allow you to effortlessly switch between breastfeeding and bottle feeding. As the name suggest TT made them to imitate natural shape, size and feel of the breast. The flex, movement and rigidity of the nipple was designed to replicate the behavior of mother's nipple. The Closer to Nature range comprises: Regular Feeding Bottles, Sensitive Tummy Feeding Bottles and Added Comfort Feeding Bottles. They all share the same design and nipples. Sensitive Tummy and Added Comfort bottles have additional features for colic prone and exceptionally sensitive babies respectively.
Design and features
The Closer to Nature bottles are short and compact, hence they do not use much space but thanks to their width they can be filled with up to 5 ounces of milk (the volume of most baby bottles is 4 ounces). There are also larger, 9 ounces, bottles available for older babies. The compactness of these bottles is praised in countless customer reviews.
They are made of BPA-free plastic therefore you don't have to worry about a harmful Bisphenol A leaking into your baby's milk. As all Tommee Tippee products the bottles are licensed and safe for babies of all ages.
In terms of appearance the Tommee Tippee Closer to Nature bottle can be either seen as stylish or awkward depending on your personal sense of aesthetics. Thanks to the indent in the middle part of the bottle it fits firmly in the hand once you feed your baby and can be easily grabbed by the baby once she's old enough to hold the bottle herself.
Tommee Tippee Nipples
A simple yet effective air vent in the nipple helps to eliminate colic, reflux and spit ups. The vent is built into the nipple so does not add extra parts to be clean.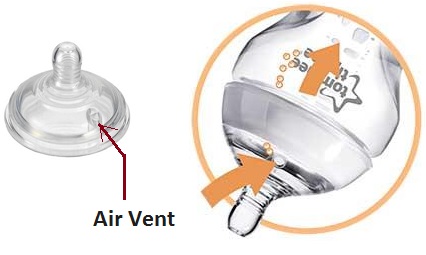 Large, wide nipples are great for breastfed babies. They mimic the shape and feel of mother's breast making the baby more willing to latch on. These nipples are available with different flow rates. This way you can use this bottle with four week old babies that require very slow flow rates as well as with older ones that demand faster supply of milk.
What make TT bottles stand out?
Each bottle consists of only 3 parts (plus a cap). This makes them extra easy to clean. A special brush (sold separately) designated for these bottles greatly speeds up this process. In our opinion the nipple cleaning part of the brush is just outstanding. The level of hygiene it offers is hard to match by competitors.
Huge range of ideally fitting, high quality and low price accessories. Tomme Tippee bottles and accessories are interchangeable and makes the life of busy moms much easier. The most popular accessories people use with Closer to Nature bottles are:
brush that is specifically made to clean these bottles and comes with a special rubber nipple cleaner (see details);
in bottle formula dispensers – this $1/piece containers makes preparing formula on the go so much easier. Everyone knows that the formula milk should not be prepared a long time before feeding and rather just before the use. What if you can have the water and powder measured up and sitting in the bottle but not mixed? These innovatory dispensers do just that (see details).
Breast Pump Adaptor – this $5 adaptor will enable you to use TT bottles with Medela pump (see details).
Video review of Tommee Tippee bottle:
>Check discounted price of Tommee Tippee bottles on Amazon<
What's in the box?
The bottles come in 5 or 9 ounces and are sold in two or three packs. Each bottle has graduations in ounces and milliliters on the side so you can see exactly how much liquid is in the bottle. The package includes:
bottles;
hygienic caps;
collars;
slow flow nipples.
Video presentation of Tommee Tippee Closer to Nature baby bottle:
Pros:
wide nipple mimic mother's breast;
simple and easy to clean design.
Cons:
some people don't like the modern shape of these bottles.
>Check discounted price of Tommee Tippee bottles on Amazon<
---
Added Comfort and Sensitive Tummy Feeding Bottles
These bottles does not have an air vent in the nipple, instead they feature a special venting system comprising of a unique tube and a valve. Such design eliminates mixing of milk with incoming air and thus no air bubbles are form in the milk. As air bubbles are believed to cause colic these bottles are recommended for colic prone babies. Besides the lack of the air vent in the nipple the shape is unchanged and also facilitates easy latching on.
These bottles also feature a special temperature detector. The venting tube changes color if the temperature of the liquid inside the bottle exceeds the recommended 98°F. This would prevent you from feeding the baby with too hot milk that may upset the sensitive stomach of the baby.
This straw based system is similar to the mechanism used in Dr Brown's bottles. It needs to be cleaned thoroughly and well air dried afterwards otherwise mold will easily develop inside the venting tube.
Video presentation of Tommee Tippee Closer to Nature Added Comfort bottle :
Pros:
ergonomic design,
great nipples, in many customer reviews they are praised for the fact they don't collape which is quite common with wide nipples.
great range of accessories.
Cons:
some customers complained about leakage.
>Check discounted price of Tommee Tippee Closer to Nature Added Comfort  bottles on Amazon<
Tips:
If you're using or planning to use Medela pumps and express directly into the bottles (either to feed your baby or store the milk for later) you need to know that Tommee Tippee Closer to Nature bottles do not fit directly into the pump. You would need a special adapter (like this for around $5). Otherwise you can express the milk into the containers that come with the pump and pour the milk into TT bottles.
Tommee Tippee has a great range of useful accessories that are high quality and come with a really low price tag. The inglorious exception is their manual breast pump. If you consider buying a manual pump read our comprehensive review first and see what is important when choosing a solid manual breast pump.