A bottle warmer is not something you absolutely have to own being a new mother. It just make life much easier and comfortable. At 4 am standing in front of a pot of boiling water observing a bottle and then cooling it under running water is the time when most mothers realize that although not necessary they want to have a bottle warmer. There are several devices on the market that are safe, efficient and durable but none of them is 100% perfect. In order to pick the best bottle warmer for your needs consider the following:
Size and shape of your bottles.

You may think that this is trivial but it's not. Most parents buy bottle warmers before the baby arrives. Even if you have everything well planned you don't know how it's going to be in practice. You may have chosen a standard baby bottles which is fine but what if your baby doesn't accept them? What if you end up buying really wide bottles like Comotomo, Mimijumi or Tommee Tippee (great bottles for picky babies)? Make sure your bottle warmer can accommodate wide bottles as well as traditional ones.
Protection of nutrients. This is particularly important when using a breast milk as it contains antibodies, vitamins, hormones and other nutrients that are very sensitive to high temperature. When warming milk you need to avoid overheating which destroys what is best in it.
How fast does it work. The reason most people buy bottle warmers is to save time so pick an efficient device that will do the job quickly.
Consistency. The idea of having a bottle warmer is to have the milk warmed up automatically. There is no point buying a device that each time produces different temperature and leaves you with milk that you either have to cool down or stick to the warmer again. This is a common issue among cheaper units.
Portability. You may not plan it at the moment but there may be a time you decide to go for a holidays or family visit with your baby. It's much easier to have all the proven accessories with you. Therefore when choosing a warmer make sure it's not the size of your oven.
Ease of use. Again you are buying it to make your life easier not because you suffer from boredom and need additional complicated device to clean. Operation of the device must be simple, intuitive and everything what's possible should be automated (switch off). You will most probably be operating it in the middle of the night being half asleep so don't buy excessively complicated warmer.
Additional features. Some bottle warmers can be also used as sterilizers for small items like pacifiers. Others can keep the milk cold and at a given time heat it up for you (a very cool feature).
My choice
As I'm using breast milk so I chose Kiinde Kozii purely because I wouldn't stand watching my precious liquid gold being degraded in high temperature. If you're using formula milk and are not that much into preservation of nutrients I recommend a basic but reliable and quick Munchkin warmer that comes with a remarkably low price tag. Read my reviews of popular baby bottle warmers below.
Here is a list of reviewed warmers:
Dr. Brown's Natural Flow Deluxe

Born Free Tru-Temp Bottle Warming System

First Years Bottle Warmer

Munchkin Time Saver

Tommee Tippee Closer to Nature

Kiinde Kozii Baby Bottle Warmer

Philips Avent Express Bottle Warmer
---
Dr. Brown's Natural Flow Deluxe Bottle Warmer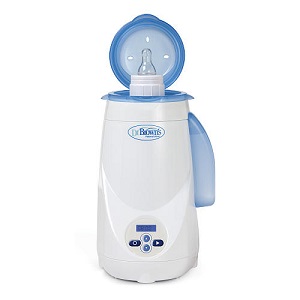 Dr Brown's warmer has a nice electronic timer, efficient heating unit and nice compact design. It's also easy to clean and comes with clear instructions on the back of the device. There is however a major problem with this bottle warmer as it has so narrow heating chamber that wider bottles do not fit. For this reason Dr Brown's warmer is only suitable for parents whose babies have already accepted standard bottles and no change of the bottle style is going to be needed.
It scores high in customer reviews and is highly praised for its consistency in producing the same temperature of milk every time. At the end of a heating cycle there is a distinct beep informing you that the bottle is ready.
The heating chamber is covered by a lid that traps steam and thus facilitate faster warming of a bottle inside. In between uses the lid prevent evaporation of the water from the unit and prevent dust from gathering inside it. Thanks to the lid you not only get the milk ready faster but also need to refill the device with water less frequently.
On the side of a unit there is a blue reservoir for water. Before using the warmer for the first time it needs to be filled with water (takes about 2/3 of a cup). Most of the water is than partially transferred into the heating chamber. As the reservoir is translucent you can easily see the level of water. This is very convenient as it lets you know when refilling is needed. Dr Brown's Deluxe warmer does not require filling with water prior to each use as most bottle warmers do.
Warming time of a standard 4 ounce plastic bottle is around 4 minutes. This warmer brings up the water inside to boiling and hot steam is the main agent used to heat up the bottle. The temperature of the steam is around 212°F (100°C). Exposure to such a high temperature makes the milk to heat up quickly but also destroys antibodies, some vitamins and other nutrients from breast milk.
Pros:
electronic timer with LED screen,
acoustic signal when finished warming (beep),
lid preventing water from evaporation and dirt from gathering inside,
compact design.
Cons:
narrow opening (wide bottles like Tommee Tippee or Comotomo don't fit and those are actually one of the best bottles for breast milk fed babies)
high operating temperature (destroys important nutrients in breast milk).
water reservoir is difficult to clean and may develop mold inside.
>Check discounted price of Dr. Brown's bottle warmer on Amazon<
---
Born Free Tru-Temp Bottle Warming System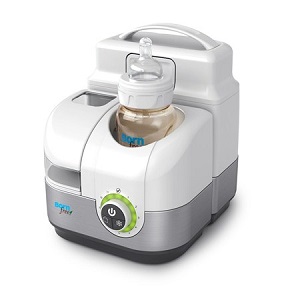 This warmer was designed to make feeding as hassle free as possible. Once a baby is awake in the middle of the night most moms have to make a decision between running to the baby or first preparing the bottle. You may also pick up the baby and begin your trip to the kitchen. Wouldn't it be easier if you had the bottle just beside baby's bed? You know of course that breast milk have to be in the refrigerator. What if your bottle warmer can keep the milk cold until needed and then quickly warm it? This is exactly how Born Free Tru-Temp Bottle Warming System operates.
This warmer comes with a cooling chamber with two ice packs that accommodate two baby bottles. It can keep the bottles chilled for up to 8 hours so you can have them handy when needed.
The warmer comes with a build in water reservoir so you won't have to fill it with exact amount of water before each use. In fact it needs to be filled once a day or every second day. It automatically adjusts the amount of water it uses to the size of a bottle. All you need to do is to select a size of a bottle and desired temperature.
Born Free Tru-Temp is using steam at temperatures close to 212°F to heat up the bottle. It's efficient and a 4oz bottle is ready in 4 minutes. The heating time is very consistent which is quite important and will save you and your baby a lot of time and stress. It's not however a perfect heating system. At least not for breast milk users. The heating chamber exposes the milk to high temperatures which is not ideal for breast milk.
When reviewing this warmer it's hard not to mention its design. Born Free Tru-Temp is by far the best looking baby bottle warmer in our ranking. The stainless finish makes it fit most interiors. It's also often praised for its durability.
Pros:
comes with a cooler for baby bottles. Many moms are keeping it in baby's room and once they finish diaper work the bottle is ready.
efficient heating;
build-in water reservoir;
easy to operate timer and automatic switch off;
consisted heating times.
Cons:
high temperature inside the heating chamber has detrimental impact on breast milk;
>Check discounted price of Tru-Temp bottle warmer on Amazon<
---
First Years Bottle Warmer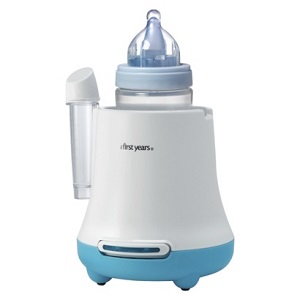 A leader in terms of price in our ranking and also the best seller in most baby gear shops. This little device is simple, affordable and compact. Unfortunately this is all I can say about its advantages. First Years device is unreliable and highly inconsistent. In my tests each cycle produced different temperature and I ended up either cooling down or reheating the bottle.
This bottle warmer comes without a build-in water reservoir which means you need to fill it with water before each use. A vial for measuring a water is included and you have to be quite precise when doing so.
Bottles are warmed by a hot steam produced inside the warmer which is a quick and simple way of achieving a right temperature of a bottle. It has however a negative impact on breast milk.
The price is tempting but it's hard to recommend it due to its poor performance. It also scores very low notes in most online customer reviews and magazines.
---
Munchkin Time Saver Bottle Warmer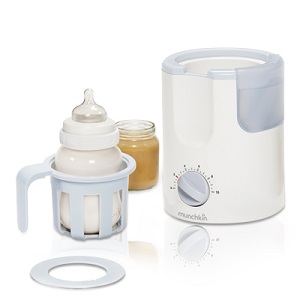 This is another low end device but in contrast to First Years product much more reliable and consistent. It does not come with all the blows and whistles as more expensive units but gets the job done. Munchkin warmer features basic functionalities such as timer, automatic switch-off and signals when the cycle is finished.
Built-in reservoir enables to heat up up to 5 bottles before you need to refill it. Despite the water level varies between cycles it can still produce consistent temperatures.
The biggest drawback of this unit is its steam based heating mechanism which is just not a great match for breast milk.
In my test I didn't notice any problems with this warmer and was pleased with the time it needs to warm up my bottles. A standard 4oz bottle taken from refrigerator was ready in under 3 minutes which is really good.
Some customers reported problems with leakage. I haven't notice it but would assume that they may happen if the water reservoir is not mounted properly.
The Recommended Retail Price (RRP) for this warmer is around $30 but you can often get it at Amazon for $20 or even less.
>Check discounted price of Munchkin bottle warmer on Amazon<
---
Tommee Tippee Closer to Nature Electric Bottle Warmer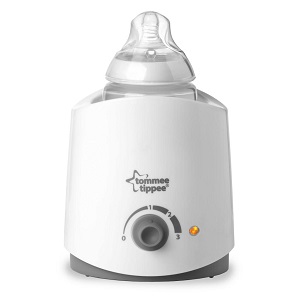 This a perfect example of a very badly designed warmer. The only settings you can adjust are a power that it produces. There is neither a timer nor an automatic switch off. If you are not attending this machine once it's working you will end up with too cold or too hot milk. There is no point discussing the size of the opening, warming time or ease of cleaning as the abovementioned flaws practically disqualify this unit. This is quite a surprising setback for a company that is praised for excellent and well thought out products for babies.
---
Kiinde Kozii Baby Bottle Warmer
Best Bottle Warmer for Breastmilk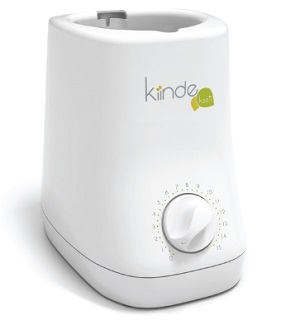 Kindle Kozii looks like an average bottle warmer but its warming mechanism is quite unique. Instead of boiling the water and using hot steam to heat up bottles it uses warm water at the temperature of about 125°F (52°C). The water is constantly circulating inside the chamber which speeds up the heat transfer. This patent pending technology is called SAFEheat and enables Kozii to work almost as efficiently as steam but preserve all the good stuff in the milk. No it's not as quick as steam based warmers but this is the price I'm prepared to pay to protect my liquid gold.
On the box it says that it follows CDC (Centers for Disease Control and Prevention) and USDA (United States Department of Agriculture) guidelines. This basically means that by using this warmer the nutrients in breast milk are safe.
The water reservoir is built-in and does not have to be filled as frequently as in steam based devices. As the operating temperature of Kozii is much lower the water does not evaporate so quickly.
Kozii comes with a timer and an automatic switch off. Once the time is up the warmer stops heating up the water and drains the heating chamber. This is also a unique feature as it prevents overheating. After given time of exposure to the heating agent the bottle is left in a chamber but it will not get any warmer as there is no water. In most of the "regular" warmers if you leave a bottle after the cycle is finished it will become too hot. This is quite important for me as my daughter not always gives me the luxury to stand in front of the warmer when the cycle is completed. It usually takes me about five and a half minutes to warm up a standard 4 oz plastic bottle which is not impressive.
In terms of design there is nothing special in it. The warmer is compact and standard looking. It features wide opening so can easily accommodate even Tommee Tippee or Comotomo bottles.
Kozii is quite new device and already secured over two hundred highest scores from Amazon customers. After using it for few days I know why. As I'm using breast milk this is now my default bottle warmer purely because there is just no other that would protect my precious and limited liquid gold.
>Check discounted price of Kiinde Kozii on Amazon<
Video presentation of Kiinde Kozii bottle warmer:
Pros:
safe for breast milk;
automatic switch off with drain function to prevent overheating.
Cons:
slower than steam based warmers.
>Check discounted price of Kiinde Kozii on Amazon<
---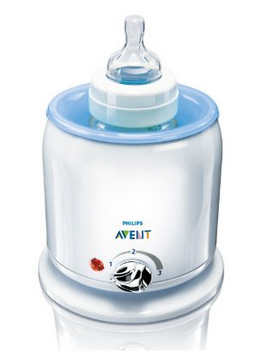 Avent advertises this bottle warmer as a quick and easy solution to warm up milk of solid food for the baby. Its construction is indeed simplistic. Unfortunately it's probably even overly simplified and thus lacks some important features that makes it not only problematic but also quite dangerous in use.
On the good side is the compact design which means that it does not take too much space. It also comes without complicated gauges and switches (something parent wants to play with at 3am). It's hard to say if it looks nice or not as this is highly subjective but it's aesthetically designed and should fit most kitchens.
The lack of certain fundamental functionalities makes it score very low in most online reviews of bottle warmers. For instance it comes without any acoustic indication of the bottle being ready to use. Chances are that a crying baby would work as efficient reminder that the milk is still in the warmer but this may also lead to overheating of the milk and unnecessary prolonged exposure of fragile breastmilk to high temperatures.
To make things even more there is no automatic switch-off that would stop the heating process so if you forget to take the bottle out it will be too hot.
This also makes Philips Avent bottle warmer dangerous in operation as without automatic switch-off it will continue to work even without a bottle in it. As the water evaporates the warmer is a serious fire hazard. One can say that this is obvious to turn off the warmer after use but with a crying infant in hand it's not difficult to oversee something. In this case being distracted migh cost your home or even life.
Bottom line: Great idea to keep things simple but terrible execution leading to a dangerous and cumbersome in operation product.
---
Angelica Soleno (proud mother of a 6 month old Melissa)