If you're after the best double stroller for infant and toddler the first thing you need to decide is a type of frame you want. Two most popular types are side-by-side and tandem strollers. There are pros and cons to each of them and what really should be a deciding factor is the intended use of the device. Are you going to use the stroller on uneven surfaces during longer trips? What is the age difference between young passengers and where are you going to store the device? Those are just a few questions that you want to ask yourself before choosing a double stroller. See most popular double strollers suitable for toddler and infant below and read the buying guide at the bottom of the page to learn more about crucial features of such products.
---
Top 3 Double Strollers for Infant and Toddler

Graco DuoGlider
Britax B-Agile
Kinderwagon HOP

Easy one-hand fold;
Extra large storage basket.

Independent seat recline;
Two canopies.

Only 21 lbs;
Front AND rear suspension.
---
Most popular strollers for infant and toddler:
Tandem (inline) Strollers:
Side-by-side Strollers:
---
Britax B-Agile Double Stroller
Exceptional Quality Stroller for Toddler and Infant/Newborn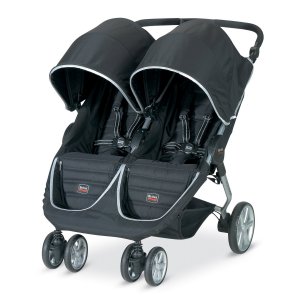 This side-by-side double stroller is an ideal option for those looking for a reliable device that would serve for years. Thanks to incredible attention to details its not only durable but also extremely easy to use (maneuverability and ease of folding) and very safe. It's also very versatile and adjustable therefore can accommodate children at various ages. Either toddler with newborn, toddler with infant or two toddlers would feel optimally comfortable due to independently regulated seat recline in both seats.
Comfort
Each seat features an independent recline. This way you can have one baby laying flat (newborn or infant having a nap) and another one sitting in upright position at the same time.
Two canopies (one for each seat). Thanks to two independently regulated canopies each passenger of this stroller travels in optimal conditions and enjoys optimal view.
Mesh ventilation in canopies. In warmer days once the canopy is extended a mesh ventilation window at its back will provide a napping baby with a breeze of fresh air. This window can also be closed with a velcro in colder and windy conditions.
All-wheel suspension and high quality tires offer smooth ride not only in shopping malls but also during trips to the park.
Padded harness with adjustable height shoulder straps. Over time as babies grow the height of the shoulder straps can be easily adjusted to provide optimal comfort and safety.
Padded head support for infants. This can be later removed but is useful to have with younger riders.
Regulated handlebar height
Special one hand grip. Thanks to a special grip in the center of the handlebar this double stroller can be effortlessly maneuvered and pushed with one hand.
Ease of Use
One hand seat recline. To recline the seat all you need to do is to squeeze a special buckle at the back of the seat.
1-click 3-step folding. You will not be able to fold Britax B-Agile Double with one hand but the whole operation is quick, easy and safe. After engaging the brake and clicking the button at the side of the stroller just grab the straps at the front of the device and lift it up. Once folded it locks automatically. In a folded position it can also stand on its own.
Storage
Britax B-Agile Double offers huge amount of storage space underneath the seats. The storage basket is not only generous in size but also easily accessible from ALL sides of the product. With seats fully reclined and restricted access from the rear of the stroller you can easily reach items in the basket from the sides or from the front. To do so simply unzip the cover of the leg support.
Small items like phones, tablets, wallets or keys can be conveniently stored in a pocket at the back of each seat. These pockets are easily accessible and most parents finds them handy especially during longer trips but they can also be easily removed by unzipping from the canopy.
Safety
5-point harness. To open its buckle you would need to use both hands and firmly push the button. This makes it rather impossible to undo by a little passenger.
Each seat has a peek-a-boo window for you to be able to keep an eye on both children.
Extra large canopy over each seat protects young skin from sun exposure and excessive wind.
Linked parking brake. Near the rear right wheel there is a lever that can be engaged and disengaged with your foot. It automatically locks and unlocks both rear wheels.
Pros:
Independently regulated seats recline and canopies.
Several accessories are available including very popular child trays.
Huge, easy to access storage space.
Accept one baby car seat.
Cons:
Peek-a-boo window cover is secured with velcro. When opening create noise that can wake up some babies.
---
Joovy Scooter X2
Best Value Side-by-side Stroller for Toddler and Infant
Joovy Scooter X2 looks very similar to above-mentioned Britax B-Agile Double and also offers comfortable ride for young passengers and ease of use for parents. It lacks some features offered by Britax B-Agile Double but comes with a lower price tag. If you think you wont need to adjust the height of the handlebar and your babies would do fine with single canopy than it might be a great choice for you. It can be folded with one hand and offer plenty of storage space.
Comfort
Similarly to high-end strollers Joovy Scooter X2 offers independent seat recline for each seat. This makes it a perfect choice for families with one toddler who may prefer sitting upright and an infant or newborn who needs to be positioned flat.
Harness and seats are padded and made of high quality, pleasant in touch and liquid repellant fabric.
Large wheels with sealed bearings make it traverse bumpy terrain with ease without compromising the comfort of young passengers.
Safety
5-point harness.
Parking brake that locks both rear wheels.
Large canopy with a peek-a-boo window.
Pros:
Great price to quality ratio.
Large storage space.
One hand fold.
Cons:
Non adjustable handlebar.
One canopy for both seats.
---
Kinderwagon HOP
Great Double Stroller for Travel, Ideal for Irish Twins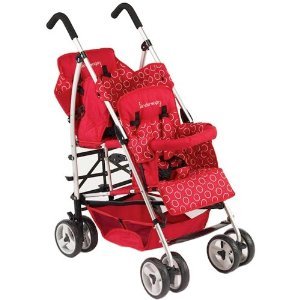 Impressively lightweight (21 lbs) and surprisingly compact when folded double stroller that makes an ideal companion travelling with two children. With generous recline of the rear seat and stadium positioning of the seats Kinderwagon HOP makes a very comfortable vehicle for both infant and toddler. On the other hand parents appreciate the compactness of this device while loading it into the trunk of a car or into a bus. Once folded the stroller can also be rolled on its front wheels.
Features:
Large expandable and easy to remove canopy with TWO peek-a-boo windows (one for each seat).
Front AND rear suspension which with high quality wheels provide comfortable ride for the passengers and makes this tandem stroller easy to push for parents.
Accommodates one baby car seat.
Parking brake engages both rear wheels.
Video presentation of infant and toddler stroller by Kinderwagon:
Pros:
Included rain cover and cup holder.
Ultra lightweight.
Cons:
Not suitable for two older/larger kids.
---
Mountain Buggy Plus One
Great Stroller for Jogging With Two Kids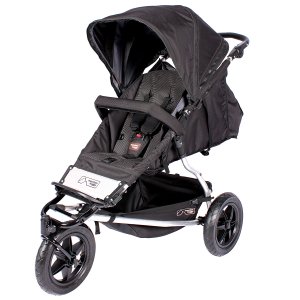 +One was designed to handle all kinds of terrain and it does it with ease. Thanks to large wheels and sturdy frame your kids can accompany you not only in the shopping mall but also during your running sessions. Your older kid will occupy the front seat and enjoy the landscape. At the back there is a space for a second child and can be either occupied by a newborn in a special cocoon (included) or an infant/younger toddler in an adjustable seat. The second seat/cocoon can be easily removed which adds huge amount of space for groceries or other items.
Features that makes this double stroller perfect for runners
Compact three wheel frame. It makes maneuvering very easy even with two kids and a heavy diaper bag.
Lockable front wheel. Locking the front wheel makes +One even more stable. You can jog with it almost like with a single stroller.
Air-filled 12'' high quality rubber tires. The size and thread of the tires makes it easy to traverse any common surface you can encounter during your run.
Rear wheel suspension.
Comfort
Roomy seats. They are wide and made of high quality fabric which makes them comfortable even during longer trips.
Single handlebar. A single handlebar makes it easy to maneuver with one hand. It's height is adjustable in a range between 30.7 – 44.9″ to suit parents of different heights.
Rear wheel suspension absorbs bumps and offer high level of comfort to the little passengers even if you go off the beaten path.
Padded harness.
Footrest.
Safety
Gigantic canopy can fully cover both kids and protect their sensitive skin from sun rays. Thanks to two zips it can be extended to reach nearly the front of the stroller. In a fully extended position you can still keep an eye on your little ones using built-in sun visors.
5-point harness offers maximum safety while strolling with curious babies. For additional safety it comes with a special buckle that is practically impossible to unlock for a baby.
Rear foot-brake for parking the stroller.
Storage
Bottle holder.
Large basket underneath the seats.
Huge storage space instead of the rear seat.
Tips for using this stroller:
If your younger child is old enough to sit in a front seat putting heavier child in the back seat will make maneuvering even easier. The back seat passenger should not have problem with this as the seat is slightly elevated and thus also offer good view.
Pros:
High quality materials which makes it stable and durable.
Can accommodate a newborn, infant or toddler in the back.
Several design features that makes it suitable for runners and active parents.
Cons:
While strolling with two passengers in upright seats neither seat can be reclined.
What's in the box?
+One double stroller;
carrycot (cocoon);
seat for the second passenger;
extendable canopy.
---
Graco DuoGlider Classic
Stroller for Toddler and Infant with Amazingly Low Price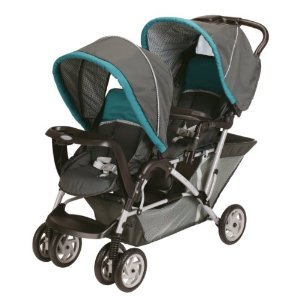 Graco DuoGlider Classic is an affordable in-line double stroller offering several features previously reserved for high-end devices. It's one of very few models on the market that can accommodate two baby car seats at the same time. The stadium style seating enable the child in the rear seat to enjoy similar view to the front seat passenger which helps to avoid arguments between riders who gets which seat. To provide safe and comfortable conditions for younger infant or a newborn the rear seat of Graco DuoGlider Classic is fully reclinable.
There are also some extras that come with this product such as baby trays so it makes really good first impression.
To keep the price down there are however several cutbacks. The canopies are quite small and have no peek-a-boo windows. DuoGlider wheels are made of cheap looking plastic and are definitely not designed to handle rough terrain (although for minor bumps the front suspension works quite efficiently). There is also no single brake lever for the rear wheels brake and each wheel has to be engaged separately.
Features:
Can accommodate two car seats simultaneously.
Easy one-hand fold.
Self-standing once folded.
Child trays included.
Extra large storage basket.
Parents tray that includes cup holder and compartment to carry small items.
Front wheel suspension.
Final note
Overall Graco DuoGlider Classic is not the best double stroller for toddler and infant you can buy but it offers decent quality and is definitely a good bang for your buck.
---
Buying guide
Read this before deciding upon a stroller for your two little ones
There is no good answer to a question what is what's the best double stroller for infant and toddler. It all depends on your needs and your budget. Below are some characteristics of a double stroller that most parents find useful. Some of them like single hand fold makes the device easier to operate while others like fully reclinable seat are just necessary if you plan to use the product with a newborn or an infant under 3 months.
Frame types:
Side-by-side
In this type of double strollers both little passengers sit next to one another. It offers the same level of comfort for both of them and the same view. The latter might be particularly important once they get older any inequality could cause serious arguments. An advantage of this type of frame is also the fact that children can interact with one another with ease. On the other hand due to the width of the side-by-side strollers they can be challenging to operate in crowded or narrow places.
In-line
In this type of double stroller passenger's seat one in front of the other. This type of double strollers is design for kids of different ages. The seats are not equal in terms of functionality. In most cases one seat can fully recline to provide comfortable napping conditions for younger child while the other seat offers better view and often comes with extras useful for older passengers such as a cup holder and a footrest. For twins this disparity would undoubtedly cause quarrels but if you have a toddler and an infant than both of them will travel in comfort.
Safety
A safe stroller is one equipped with a hard to escape harness. The most efficient in this regard are 5 point harnesses. High quality and efficiently working harnesses are crucial for young passengers safety as they prevent the baby from falling out of the stroller and also prevent him from being hurt even if the stroller tips over. According to Consumer Product Safety Commission (CPSC) tip-overs are the most prevalent cause of baby injuries in the US associated with the use of strollers (source). It is also important for the buckle to be constructed in a way that it's hard to undo for a baby and does not take ages to open for the parent.
While the stroller is not on the move it should be secured with brakes. Some strollers, but not all, come with linked rear brake. This means that when you engage the break both rear wheels are blocked.
In terms of safety it is also important to remember about protection against elements. High quality, LARGE canopy is always an asset. It should be large enough to prevent strong sun exposure for both passengers. The best solution with this regard is a single canopy for each passenger.
Comfort
A comfort ride for an infant and a toddler means peaceful and pleasant experience for parents. Main contributors to the comfort level in a given stroller are the seats and their positioning. Some strollers offer independent seat recline which means that one baby can take a nap while the other is enjoying the ride. There are several features that additionally increase the level of comfort both for the passengers and the operator:
footrest;
head support for infants;
baby trays;
adjustable handlebar;
wheel suspension;
large wheels with high quality tires and bearings.
Storage
While traveling with two kids you will always have something to carry with you. It may just be a phone, keys and a diaper bag, but sometimes it might be much more. LARGE storage is an essential feature for double strollers. Fortunately most of them come with substantial storage baskets underneath the seats. Make sure that the basket is easily accessible in all possible positions of the seats.
A desirable feature and one that makes life much easier is some kind of storage space easily accessible while on the go pushing the stroller. This may be a pocket at the back of the seat or a parent tray with special compartment.