Dr Brown has served moms and babies since 1996. They specialize in baby bottles and are famous for their revolutionary venting system. All parents of colic babies have heard about Dr Browns Natural Flow® bottles as they are widely known for their efficiency in counteracting this displeasing condition. These patented bottles were design by pediatrician and tested by thousands of mothers. They are praised for their efficiency in gas, colic, spit-up reduction. To serve everyone taste Dr Brown offers both plastic and glass bottles. The plastic ones also come in standard and wide neck versions. All Dr Brown's bottles are tested, certified, safe to use and BPA-free. They all share the same functional characteristics. In our review below we present the traditional narrow bottles, followed by wide neck and glass ones.
Video presentation of Dr Brown's bottle:
Design and features Dr Brown's Natural Flow Bottles
The shape of the traditional Natural Flow bottles is classic and simple. There are also no indents. The regular shape makes them practical and easy to clean. They feature mold measurements on the side so you can see exactly how much liquid is in the bottle. The mold engravings are very functional as they won't discolor easily in the dishwasher but they are also quite tiny and some people may find it hard to read them.
The advanced air vent system was created to eliminate negative pressure forming inside the bottle as a baby sucks the milk out of it. In regular bottles negative pressure forming inside the bottle may cause nipple collapsing and negatively affect a baby (colic). It is also possible that the air will wind its way back to the bottle through the whole in a nipple and travel through the milk to the bottom of the bottle (inverted during feeding). This air will cause formation of air bubbles inside the milk which after being swollen may cause reflux, excessive burping, spit-up and colic.
In order to prevent these from happening the air vent system makes the air travel from the side of the bottle ring into the bottom of the bottle inside a special tube. This way the negative pressure is never created and air bubbles are not forming.
Another issue associated with creation of air bubbles inside the milk is oxidation of nutrients in the milk, especially vitamins. This affects both breast milk and formula milk. Scientists from University of Nevada-Reno discovered that all vitamins are affected by air bubble caused oxidation during feeding. In standard bottles after 20 minutes of feeding nearly all vitamin C molecules were destroyed. Application of Dr Brown's bottles with the tube based venting system helped preserving most of the nutrients. You can read more about this study here.
The air vent system comprises of only two elements so it does add up a little bit of cleaning time but not a lot. Nonetheless it has to be meticulously cleaned after each use. A supplied brush greatly helps with washing it.
Video review of Dr Brown's bottles:
What makes Dr Brown's bottles stand out?
Dr Brown's air vent system has become their trademark. It's extremely effective in reducing reflux, colic and spit-up. It has been scientifically proven to help preserving nutrients in the milk. This venting system has become industry standard and in most bottle reviews other products are compared to Dr Brown's system in terms of efficiency.
Dr Brown also offers a great range of accessories and supplemental products. The most useful with their bottles are dishwasher basket, bottle warmer and if you chose glass bottles, a silicone sleeve.
>Check discounted price of Dr Brown's bottles on Amazon<
Available sizes and colors
Standard shape bottles come in 4 ounces and 8 ounces versions. You can choose between classic blue color option and a pink one (not very popular nor attractive). They can be purchased individually, in three and four packs.
Each bottle comes with:
venting mechanism (tube and ring);
stage one nipple;
bottle ring;
hygienic cap;
cleaning brush (ideal for cleaning the venting system, one per pack);
printed instructions for assembly, cleaning and storing (per pack).
>Check discounted price of Dr Brown's bottles on Amazon<
---
Dr. Brown's Natural Flow Wide Neck Bottle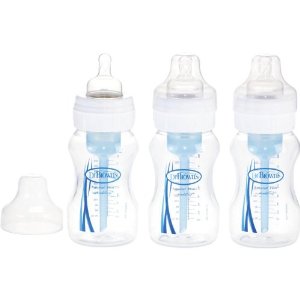 These bottles are much wider and come with a much wider nipple. They were specifically designed for breastfed babies as the shape of the nipples replicates mom's breast. It prevents nipple confusion and thanks to slow flow of the milk eliminates the risk of your baby developing a bottle preference.
Wide neck bottles are easy to clean as they enable easy access with a brush. They also feature an indent in the middle that facilitates slip-free grip.
They feature very efficient air venting system and thus prevent colic, reflux and spit-up. Babies latch on the wide nipple easily and thanks to the venting mechanism they can suck without the negative effect of vacuum in the bottle. These bottles not only mimic the shape of mother's breast but also simulate the mechanism of breastfeeding.
Dr Drown's wide neck bottles comes in 4 ounces and 8 ounces and are sold individually, in two and three packs. They are available in classic blue color and in pink.
>Check discounted price of Dr Brown's wide neck bottles on Amazon<
---
Dr. Brown's Natural Flow Glass Bottles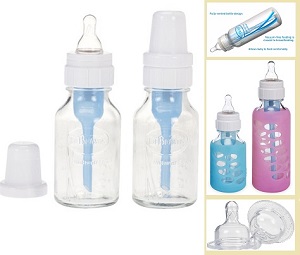 These bottles are shaped identically as standard plastic Natural Flow bottles. They also share the same nipple design and air venting mechanism. Being made of glass makes them heavier than plastic counterparts but also provide all the benefits of this material. These bottles are made of natural ingredients which makes them extra safe and eco-friendly.
Glass bottles are much less prone for being scratched during cleaning, especially with a cleaning brush. Their smooth surface makes them particularly easy to clean and sterilize. Lack of micro scratches guarantees no staining and smell retention which is typical to all plastic bottles after some time. Glass bottles also don't become brownish after repeated exposure to high temperatures during sterilization.
These bottles although made of glass have high impact resistance and are not easy to break. However, just to be 100% sure it is recommended to use them with a protective silicone sleeve (sold separately) that cushions the bottle and in an unlikely event of breaking will keep the glass inside.
The silicone sleeve also provide perfect non-slip grip for you and the baby and helps to keep the milk worm for longer. Bottles can be washed and sterilized with the sleeves on.
Dr. Brown's glass bottles come in 4 ounces and 9 ounces and are sold in two or three packs. A cleaning brush and instructions are also included in each pack.
>Check discounted price of Dr. Brown's Glass bottles on Amazon<
Summary of Dr Brown's bottle review
Pros:
excellent air venting system;
various shapes and materials available;
plethora of accessories;
reputable and trusted brand.
Cons:
Measurements on the side of the bottle are very small and may be hard to read.
Some mold may develop inside the air vent system if not washed and air dried thoroughly.