When choosing a bottle for your breastfed baby you need to find a very fine balance between two crucial aspects of bottle feeding. Moms that want to solely rely on bottle feeding face only the aspect of bottle acceptance. Once the bottle is accepted by the baby everyone is happy. For women who want to switch between breastfeeding and a bottle there is one more thing to be aware of. Bottle preference. Some bottles/nipples are just much easier for the baby to suck from than a breast and once the baby discovers this she may prefer a bottle. If a baby develops preference for a bottle it may be extremely difficult to switch back to breastfeeding. There are several factors that may prevent bottle preference and facilitate seamless switching between breast and bottle. The most important are shape and flow rate of a nipple. Nipples that mimic mother's breast in terms of shape and function (slow flow rate – baby has to work) tend to work best for this purpose. There are bottles specifically designed to mimic woman's breast. See a compilation of best bottles for breastfed babies below. They are presented in alphabetical order.
Breastflow by The First Years bottle

Comotomo bottle

Dr. Brown's bottle

Medela bottle

Mimijumi bottle

mOmma by Lansinoh bottle

Philips Avent Natural bottle

Playtex Drop-Ins bottle/nurser

Tommee Tippee Closer to Nature bottle

Yoomi bottle
---
Breastflow Bottle by The First Years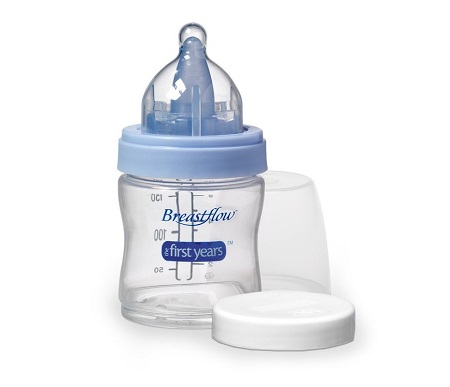 Breatflow really nailed the mechanics of natural breast and incorporated it into their Firt Years bottle. This is unquestionably the most advanced and efficient projection of mother's nipple behavior. Baby has to use the exact same technique to drink from this bottle as she uses during breastfeeding. It engages nearly 40 muscles and prevents bottle preference.
Breastflow's patented 2-in-1 nipple lets your baby control the flow of breast milk or formula as naturally as breastfeeding. By using, both suction and compression motions, the baby is able to regulate the flow of milk unlike any other bottle.
These bottles feature a patented double nipple. It's composed of an harder internal nipple and softer external part. This construction forces the baby to use both compression and suction motions to get the milk. It also allows the baby to regulate the flow of the milk exactly like with natural breast.
The biggest flow of these bottles is their tendency to leak. This happens frequently when the baby needs a break and the bottle is inverted (from nipple down position as during the feeding). The milk from the space between the internal and external nipple sometimes finds its way out through the thread of the bottle. Several moms reported that no matter how tight or carefully they tighten the bottle it still occasionally leaked.
Video presentation of Breastflow's bottle for breastfeeding
Pros:
advanced double nipple offering slow flow;
low price tag.
Cons:
tendency to leak;
additional internal nipple means more parts to wash.
>Check discounted price of First Years bottles on Amazon<
---
Comotomo bottle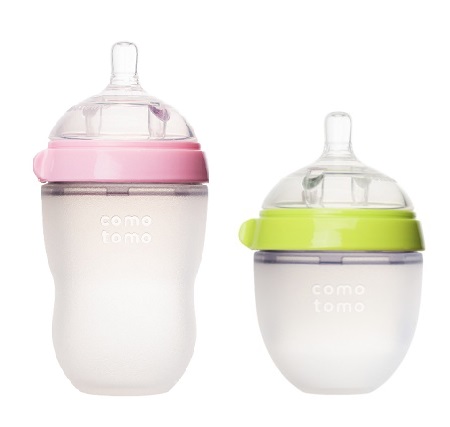 The only fully silicone bottle. It's shaped like a breast and works like one. Wide nipple enables easy lathing on and makes this bottle being exceptionally well accepted by babies. The slow flow rate of the nipple also prevents development of bottle preference as the baby needs to work for the milk. With this bottle it also possible to mimic the natural let-down reflex of mothers breast. The bottom part of the bottle is particularly soft and can be gently squeezed which would make the milk to flow slightly faster – just like from mom's breast after let-down.
There are two air valves in the nipple that prevent vacuum formation inside the bottle as the milk is being consumed. This reduces occurrence of colic, reflux, painful gas and excessive spit up. The air vents are one directional so there is no leakage no matter what position you hold the bottle (the valve will let the air in but will not let any liquid out).
Comotomo bottles are exceptionally easy to clean. The neck is as wide as the bottle (other wide bottles also have quite wide necks but they are always distinctly narrower than the middle part of the bottle). This enables seamless access with your sponge or easy penetration by water in the dishwasher. They are composed of only 3 elements which makes cleaning and assembly even faster and easier.
Silicone being naturally soft has a huge impact resistance. This is important for older babies when they start holding the bottles themselves, occasionally dropping it or smashing onto something. Comotomo bottles will not shatter like glass counterparts nor crack like plastic ones.
Comotomo bottle scores highest marks in all internet contests for best baby bottles. It's particularly recommended for breastfeeding mothers due to the implemented technological solutions (wide and easy to latch on nipple, slow flow rate, let-down effect, air vents, ease of cleaning, safety and modern look).
Video presentation of Comotomo bottle
Pros:
mimic shape, feel and action of mom's breast;
enables gentle squeezing to simulate let-down reflex;
very wide opening – easy to clean and fill.
Cons:
It's unique shape makes it prone to tip over.
>Check discounted price of Comotomo bottles on Amazon<
---
Dr. Brown's bottle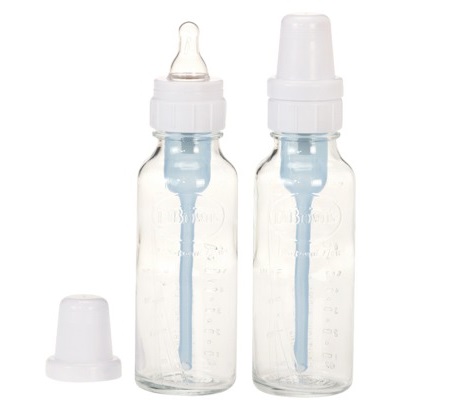 This bottle due to its sheer popularity just have to be mentioned in any reputable baby bottle ranking. Dr Brown's bottles are not specifically designed for breastfed babies, however they come with few features that are useful in this scenario. The advanced two piece internal vent system which enables the air to bypass the milk completely and equalize pressure inside the bottle is a state of the art invention. Thanks to this feature they are widely considered as best bottles for particularly colic babies.
Slow flow nipples with quite wide base may help preventing nipple confusion. They are also long enough to promote right latching.
Dr Brown bottle's shape would be particularly appreciated by more conservative parents. It's simplistic and traditional. This makes it practical and enables easy cleaning. The graduation is mold in the side of the bottle which prevents it from being washed away over time.
There bottles similarly to Philips Avent bottles are available in plastic and glass versions. And come with a special cleaning brush for the internal vent system.
Pros:
Advanced air venting system prevents colic, reflux and other conditions caused by swallowing air.
Cons:
The internal vent system requires meticulous cleaning and drying, if done improperly may cause mold and mildew growth.
>Check discounted price of Dr Brown's bottles on Amazon<
---
Medela bottle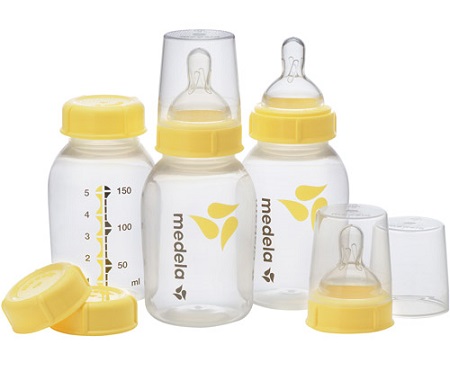 A bottle and a nipple from a renowned and trusted breast pump manufacturer (they make really exceptional electric pumps). This bottle features classic design with typical Medela-style yellow elements. It fits perfectly into Medela pumps and can be used to express milk directly into the bottle.
The Calma nipple due to its complex design, also often referred as a feeding device, was specifically designed for breast milk. It features an open top which is surprising but due to internal valve the flow is slow. The milk will not drip from it and the baby has to actively work for it. There is a lot science behind the design of Calma nipples but ultimately due to its shape and function your baby will either love it or hate it.
Beware though, the nipple is shockingly expensive as it comes at $17 per piece. Let me repeat $17 for ONE nipple!?
There are several negative reviews over the internet and some not so pleasing comments in various magazines about Calma nipples (gassy chocking babies, lack of acceptance) but in our test they did just fine. Still $17 per piece! Come on Medela!
Pros:
classic design;
trusted brand.
Cons:
>Check discounted price of Medela bottles on Amazon<
---
Mimijumi bottle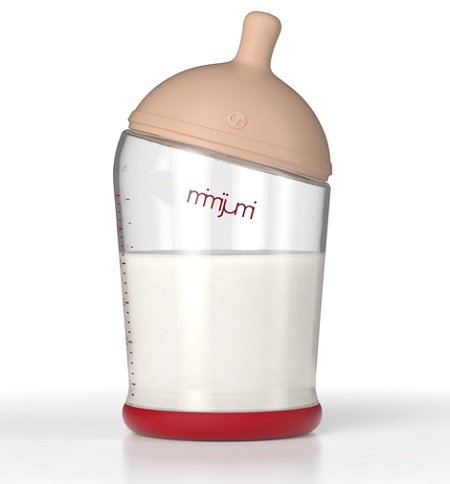 Designed by two doctors and parents Mimijumi bottle is made from German silicone and Swiss nylon. Its nipple mimics shape, color, softness and texture of mother breast. There is also a built-in air vent to prevent vacuum inside the bottle and thus reduce occurrence of gas, colic and reflux.
The Mimijumi bottle is made of only TWO parts! That is right there is a nipple with a vent that comes directly onto the bottle. Why other companies haven't thought about it? Despite the lack of traditional collar ring it did not leak in our test.
Thanks to the unique two-part design and a non-skid bottom these bottles can be easily assembled with one hand. Their feature a very wide neck (similarly to Comotomo bottles the neck is same width as the middle part of the bottle). This makes them particularly easy to clean and fill.
This bottle really has a potential to become the best bottle for breastfed babies but at the moment it needs some tweaks. Several moms complained that even the slow flow nipple makes their babies to choke as the milk went to fast. There are also frequent comments about the hygienic cap being too loose on the bottle and easily falling off.
Video presentation of Mimijumi bottle
>Check discounted price of Mimijumi bottles on Amazon<
---
mOmma by Lansinoh bottle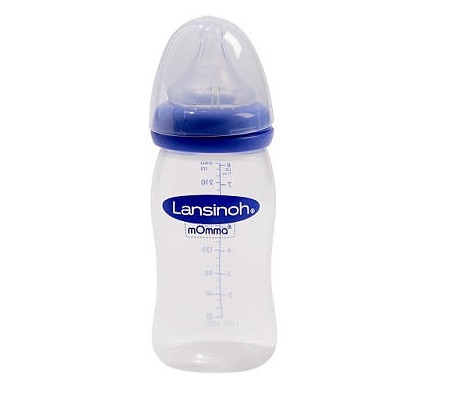 New ergonomic bottle by Lansinoh is an effect of over fifty years of experience and constant improvements. The wide bottom of the bottle makes it stable and hard to tip over. It is slightly narrower in the middle part providing a firm grip when feeding.
mOmma bottle features Natural Wave Nipple which promotes the three-staged mechanism of baby's feeding (latching on, peristaltic or "wave movements" that create suction and swallowing). The nipple is clinically proven to help establishing and maintaining healthy feeding patterns. Wide base promotes natural latch on and its textured surface ensures secure latch. Gradual slope design of the nipple allows the baby to use the natural tongue movements. By being stretchy and flexible it also helps the baby to use the same feeding technique as learned at the breast. All this facilitate proper oral, jaw and facial development.
Both air vent and unique design of the tip of the nipple prevent air swallowing and allow the baby to control the flow, just like during breastfeeding. This reduces colic, gas and other conditions associated with air swallowing.
There are mishaps with any product but you can easily judge a company by how it responds to such situations. Lansinoh is well known for their responsive, exemplary customer service.
Video presentation of mOmma bottle for breastfed babies
Pros:
high quality nipple;
great customer service.
Cons:
For some babies the flow of milk may be too fast even with slow-flow nipples.
>Check discounted price of mOmma bottles on Amazon<
---
Philips Avent Natural bottle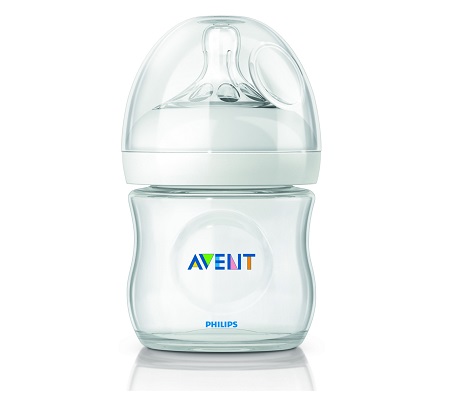 This bottle feature wide breast-like nipple with special built-in comfort petals that makes it exceptionally soft and flexible which enables proper latching on. These petals also prevent collapsing of the nipple in baby's mouth and thus facilitate smooth uninterrupted feeding. The slow flow nipple enables even the breastfed newborns to comfortably drink from these bottles.
Anti-colic system consisting of two air vents ensures that the baby will not be swallowing air bubbles. The patented valve works in only one direction so there will be no spilling of liquid gold.
Bottles are ergonomically shaped and fit firmly in a hand. Their wide neck enables easy cleaning and a simplistic 3-part design makes assembly a breeze.
Avent bottles are made of either BPA-free plastic or glass. The latter is an excellent eco-friendly option for those wanting to provide most natural feeding experience for their baby. Quality borosilicate glass is hard to break and is thermoresistent (can be transferred from refrigerator to boiling water). Special silicone sleeve (available separately) provides extra security in an unlikely event of a breakage. It also makes the bottle slip free and easy to grasp by the baby.
Avent Natural bottle video presentation
Pros:
wide nipple that mimic mother's breast;
easy to clean simplistic design;
efficient air vent system.
Cons:
silicone sleeve for a glass bottle is not included;
glass bottles are heavier than plastic counterparts.
>Check discounted price of Avent bottles on Amazon<
---
Playtex Drop-Ins bottle/nurser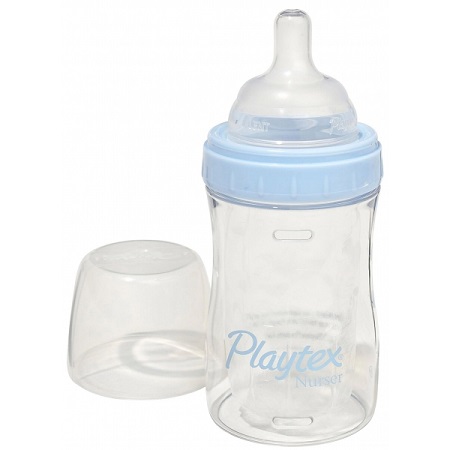 Playtex nurser is a great option for anyone wanting to cut cleaning baby bottles to minimum. In fact you don't even have to clean this bottle as it does not have direct contact with milk and serve only as a rigid structure holding disposable liners. The only part that requires cleaning is a nipple. These bottles are especially handy when travelling where time and space for the regular baby bottle cleaning rituals are restricted.
The mechanics of feeding with this bottle most closely mimic the breastfeeding scenario. Once the milk is being sucked the liner collapses just like the breast. There are virtually no air bubbles and no vacuum. This natural mechanism promotes safe and comfortable feeding and reduce colic and spit-ups.
We'd like to point that the running cost of this system if you decide to use it on a daily basis is substantial. The liners usually come at around $5 per a pack of 50 which is quite reasonable for occasional use. However, if you feed 5 times a day the pack will last for 10 days which gives 36.5 pack per year. That's $182.5 per year! If you are a busy mom-on-the-go and can afford it or use it occasionally then it's fine, otherwise we recommend other products.
Pros:
Cons:
although there are clear graduations on both the bottles and liners they are not particularly accurate;
high running cost if used on a daily basis.
>Check discounted price of Playtex Drop-Ins nurser on Amazon<
---
Tommee Tippee Closer to Nature bottle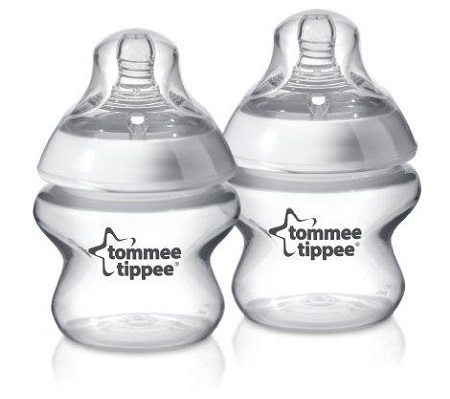 These bottles have a great reputation and are widely recommended by lactation consultants. As the name suggests they were designed to provide the most natural breastfeeding-like experience for your little one.
The nipple of this bottle has an particularly wide base. It was designed to mimic mother breast not only in terms of shape but also in feel and mechanics. The nipple promotes proper deep latching that is crucial for a breastfed baby to be able to switch seamlessly between breast and bottle. This is important for breastfeeding moms as once the baby is bottle feed you don't want her to learn to suck improperly (latching on the tip of the nipple rather than on the whole nipple which is painful). By preventing this the Tomme Tippee nipples prevent mom's breast from being hurt and thus promote comfortable and healthy breastfeeding.
The super sensitive air valve is built-in the nipple. This makes the bottle effective in preventing colic and reflux but also leaves the mother with less parts to clean.
Tommee Tippee bottles fits perfectly in a hand thanks to a special curved design. Even moms with small hands can easily hold them. They are often praised for their compactness and modern look.
They are made of only 3 parts which makes them easy to clean. For convenience there are clearly visible graduations in ounces an milliliters on the side of the bottle.
Video presentation of Tommee Tippee Closer to Nature baby bottle
Pros:
wide nipple mimic mother's breast;
simple and easy to clean design.
Cons:
some people don't like the modern shape of these bottles.
>Check discounted price of Tommee Tippee bottles on Amazon<
---
Yoomi bottle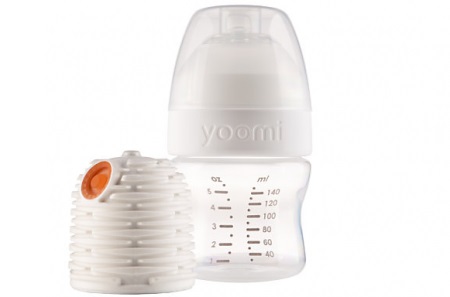 If you are not comfortable asking for hot water when you are out but still want your little one to have warm milk from the bottle this may be a great solution for you. Yoomi bottle comes with an internal warmer that is activated by a press of a button and warms the milk to body temperature. The warmer can be stored charged before each use. There are no batteries needed and recharging is done by boiling in water.
This is a perfect solution for on-the-go moms and a must have for any gadget lover. On the plus side is also incredibly helpful and responsive customer service offered by Yoomi and often mentioned by moms who interacted with them.
Pros:
very convenient while travelling.
Cons:
the warmer can be charged only 100 times.
>Check discounted price of Yoomi bottle on Amazon<
---