Finding a suitable breast pump for a working mother can be challenging, therefore to make your choice easier we prepared this guide based on real life experiences of other moms. Below you will find crucial features such device ought to posses and a list of most popular models.
Top 3 breast pumps for working mothers
Evenflo pump
Spectra S2
Medela Freestyle

Closed collection system;
Runs on AC or Batteries.

Quietest electric pump on the market;
Closed collection system.

Compact design;
Great accessories.
---
Spectra S2
Top choice for a working mom
This pump is an ideal choice for any working mom due to its quality, reliability and efficiency. It is also one of the best selling pumps due to huge discounts offered by Amazon on this model. The strong motor of Spectra S2 helps to express as fast as you feel comfortable. By pressing buttons on a control panel you can easily change both speed and vacuum strength. The effectiveness is additionally increased by utilization of two expression modes. After turning on the pump it will work in simulation mode, which helps triggering letdown reflex and initiate expression. Once this happens you can press a button to switch the pump into expression mode. Utilization of optimal pumping pace and vacuum level facilitates quick and smooth expression.
The strength of the pump is also important to maintain milk supply. If you are a frequent pumper your pumping rituals need not only satisfy current demand of your little one but also ensure future production at proper level. A good pump for working mom has to, in this respect, mimic your baby's actions. It has to stimulate your organism to continue milk production. Spectra S2 pump, with its maximum vacuum of 320 mmHg and easy to adjust settings, has been clinically proven to meet these criteria. It's a hospital grade pump which supports adequate milk supply.
Pros:
Strong motor = quick in use and supports milk supply.
Quiet. In fact probably the quietest pump on the market. This is important if you intend to pump at night.
Closed collection system.
Lightweight.
Cons:
There is no bag included.
Bottles that come with this pump could be better.
>Check discounted price of Spectra S2 pump on Amazon<
---
Medela Pump in Style Advanced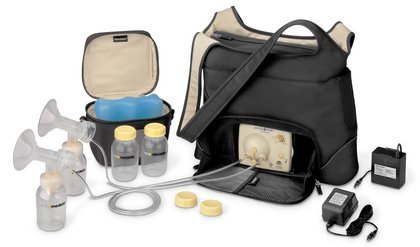 A great pump from a reputable manufacturer that supplies many US hospitals. It's strong and intuitive in use. The accessories that comes with this pump are highest quality which makes it very comfortable. Pump in Style is also famous for the reliability and durability of its motor. What makes it a great choice for moms working outside of home is a well thought out case (choice of three) and a battery pack that enables operation even without access to an electrical outlet.
In terms of speed and comfort many women who used both say that Pump in Style and Spectra S2 are very similar. The most important difference is in type of the collection system and loudness. Spectra features a safe closed collection system whereas Medela's unit has an open one. In terms of the level of noise produced by both units Spectra is by far superior, however, in comparison to other pumps Medela's device is relatively quiet.
Medela's pump advantage over Spectra S2 is in the quality of accessories. The first one also comes with a case and battery pack.
Pros:
Reliable and strong.
Comes with a case and high quality accessories.
Battery pack.
Cons:
Open collection system.
Louder than Spectra S2.
>Check discounted price of Medela Pump in Style on Amazon<
---
Evenflo Double Electric Breast Pump
Best electric breast pump for working moms on a budget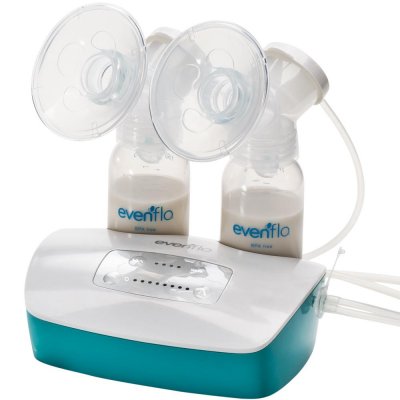 Evenflo's pump features a safe and hygienic closed collection system and is very customizable, which makes it comfortable in use. Additionally, for your comfort, there are three different sizes of the flange. It means that no matter what size your breasts are you will find a perfect fit. The pump is not as strong as high end units so you will have to give it a little more time.
A huge advantage of this pump is its ease of operation and ability to collect milk even when you sit in upright position. The shape of the collection units prevents spillages and loss of suction.
Many consumers who use the pump find the integrated bottle holder very handy. Having a secure place to put down the bottle when you finish or take a break minimizes the chance of spilling its precious content.
Pros:
Great price.
Built-in battery compartment (accepts AA batteries).
Closed collection system.
Three flange sizes.
Cons:
Motor could be stronger.
Quite loud.
>Check discounted price of Evenflo pump on Amazon<
---
Lansinoh Double Electric Breast Pump
Lansinoh's Signature Pro pump is the most stylish device in our list. It also very functional with its bottle stands (prevent accidental spillage) and large LCD screen. All the functions of the pump are clearly displayed on the screen making the operation very intuitive. Once "ON/OFF" button, situated just below the screen, is pressed the pump starts working in simulation mode which helps initiating the expression.
What makes this pump great for any working mom is its practicality. It's not only efficient and easy to use but also comes with a set of high quality bottles. These bottles have several applications. They serve as collection container and once you finish expressing they can be used for storage. Special seals and caps are included to help keep your liquid gold safe in a fridge. Once the milk is needed the same bottle can be used for feeding your little one. All you need to do is to replace the storage seal with a nipple (also included) and warm up the bottle.
Safety
Lansinoh pump is a closed collection system which means that there is no risk of contaminating the milk. Therefore the device is safe for your baby.
Pros:
Practical design.
Well thought out and high quality accessories (bottle stands, collection bottles that serve as storage containers and feeding bottles, protective seals for bottles, nipples).
Cons:
The pump is not as strong as Medela Pump in Style or Spectra S2.
Quite noisy.
---
Medela Freestyle
Most portable electric breast pump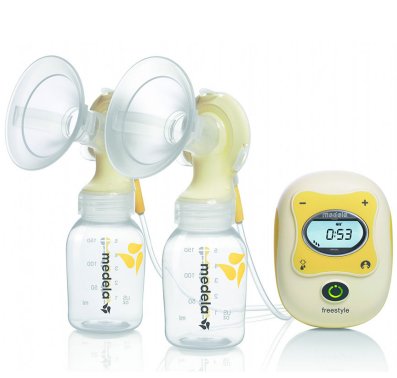 This may be the optimal pump for busy moms working from home. As Medela advertise it, Freestyle is the smallest electric pump in the World. It's been designed to be carried on you while you pump. So if you have no time to spare take a closer look at this device.
The motor of the pump is so small and light that can be kept in a pocket. Alternatively you can use an included waist strap.
Medela Freestyle enables new moms to work on a computer or engage in other activities requiring operating with both hands and at the same time expressing their breast milk. Longer time required by this pump can be therefore compensated by fact that you don't have to take a break to pump.
It's not for everyone!
This pump may be a great choice for moms working at home. However, if you work among other people there are no benefits in using it. It is rather unlikely that you would pump while sitting in an open space office. On the other hand using this pump during your break makes no sense due to it's inferior motor strength. Freestyle is nice and small but it's also significantly weaker than Pump in Style, therefore expressing takes much longer.
Pros:
Enables working while pumping.
Great set of accessories.
Cons:
>Check discounted price of Medela Freestyle pump on Amazon<
---
What to look for in a breast pump if you are a working mother?
In order to identify crucial characteristic of a pump that would suits the needs of a working mom we asked women who use or used to use one. In particular we were interested in opinions of women who work out of home. Below we present the features that other breast pump users found useful.
Reliability. It's generally better to choose models that are tested by your friends or have good opinions in the internet. No one wants to waste time and money replacing parts that may be hard to obtain.
Strength. The motor of a breast pump should be strong in order to provide adequate level of vacuum. This way expression is comfortable and takes less time.
Ease of use. Expressing at work usually put time restrictions on the whole operation. The easier the assembly is the more time you have left for collecting the precious content.