Most parents realize quite early in their parenting career that warm milk has an impressive soothing impact on babies. Having a device that can quickly and efficiently warm up even chilled milk can save a lot stress as the baby is usually not particularly patient when she's hungry. That is why bottle warmers are so popular. You can find them in every baby gear store and most parents have at least one of them. But what if you are out with your little one and milk has to be heated without the access to your standalone bottle warmer? You can always ask a waiter to heat it up if you are in a restaurant but chances are it will end up in a microwave and you'll risk creation of dangerous hot spots. Another option is to ask for a pot with hot water but many people don't feel comfortable with this. A great alternative is this situation would be a portable bottle warmer. Such devices can be used not only in the restaurant but virtually in any place. This provides real independence and peace of mind.
There are several manufacturers that produce such equipment. See below the list of the popular ones and also our subjective reviews of them. To choose the best travel bottle warmer four your needs try to analyze the situations you usually find them useful.
Important Characteristics of Portable Bottle Warmers
Need of Regeneration. Some devices use a special gel to generate heat when the gel is activated. After use the gel has to be boiled to be regenerated. This means that you have to plan ahead of using such warmer. In contrast there are also baby bottle warmers that use disposable sachets to generate heat. All you need to do in such case is to take the warmer and sachets with you.
Source of Heat. As mentioned before there are warmers that use gel and warmers that need disposable sachets. Another popular group uses hot water held in a special thermal flask. There are also electric portable bottle warmers that plugs into the car's cigarette lighter socket.
Cost of Exploitation. If you're planning to use travel bottle warmers often be aware that cost of preparing a bottle varies in different types of warmers. The ones using sachets are most expensive while those using hot water usually cheapest. Gel based warmers require certain amount of electricity or gas to boil the gel for several minutes.
Total Weight. It is important to remember that you would have to carry with you not only the warmer but also all that is needed for it to work. The additional weight can sometimes be substantial as for example in the case of warmers that require hot water. In this case the water and the thermal flask for its storage are often heavier than the warmer itself.
See also our review of top bottle warmers
Most Popular Travel Warmers:
Tommee Tippee TRAVEL Bottle & Food Warmer

Munchkin Travel Bottle Warmer

Diono Warm "N Go Bottle Warmer

Prince Lionheart On-the-Go Bottle Warmer

WarmZe
Tommee Tippee TRAVEL Bottle & Food Warmer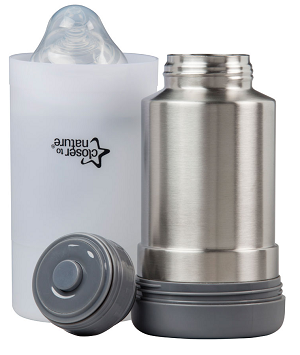 This portable baby bottle warmer is simple in operation yet very efficient. No special preparation is required, all you need to do is fill the thermal flask with boiling water and you're good to go. Anytime you need to heat up the bottle just remove the white plastic cover, pour water into it and place the bottle inside. The flask holds up to 16 oz. of water which is enough to heat three 4oz bottles. This should be enough for a day out. As the stainless steel thermal flask is very efficient in keeping the warmth inside the water remain hot for up to 12 hours.
This device can also be used to warm up jars with baby food and cereals.
Tip for formula fed babies:
You can fill the thermal flask with pre-sterilized boiling water and use it later to prepare formula on the spot. There should be enough water for 3-4 bottles. This way you don't have to carry additional bottle with pre-sterilized water on you all the time.
Can it be used in a plane?
Several users reported that they had no problem getting on board with this bottle warmer for both US domestic and international flights. They, however, indicated that they kept the flask empty when boarding and asked flight attendants for boiling water while on board. If you want to be certain check with your airline in advance what is their policy in this regard.
Will it fit other bottles?
According to manufacturer it is "Specially designed to hold Closer to Nature bottles", but as the plastic container is very wide it can accommodate other bottles too. Even the very wide bottles like Dr Brown or Comotomo fit inside this warmer. It can also be used with 8 or 9 oz. bottles.
Video presentation of Tommee Tippee TRAVEL Bottle & Food Warmer

Pros:
No lengthy preparation required;
Low price;
Can be used with various bottles or jars;
Can store hot water for formula milk preparation.
Cons:
Weight – you need to carry the water with you;
Uses hot water so caution and common sense are required when using it.
---
Munchkin Travel Bottle Warmer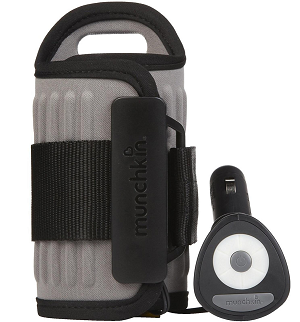 This portable bottle warmer is an excellent choice for parents who spend a lot of time driving with their little ones. It uses cigarette lighter socket as a power source and thus does not require any preparation upfront. The device is composed of a flexible band that you wrap around a bottle. There is also a velcro strap to fasten it. This construction makes it easily adjustable and thus Munchkin's travel bottle warmer can be used with any bottle, including wide neck bottles. It will also accommodate jars with baby food.
One thing you need to keep in mind with this device is that it takes quite some time to get the bottle ready. A 5 oz. bottle with cold breastmilk usually takes about 30 minutes to warm up.
Ease of operation
This portable bottle warmer does not need pre-boiled gel bags, sachets or boiled water. All you need to do is press a button on the plug. In fact you need to press two buttons. The round button in the middle of the plug serves as an ON-OFF switch. A long button at the bottom of the plug enables you to set a timer. There are 6 warming times available: 5 min, 10 min, 15 min, 20 min, 25 min, and 30 min. After this time the warmer will turn off automatically. The default time is 5 min so if you don't set the time it will work for 5 minutes only.
The LED light in the plug that illuminates most of its surface is handy at night and helps to turn the device on as well as set a required time.
Pros:
No upfront preparation required
Easy to use;
Fits various bottles and jars.
Cons:
Takes about 30 min to warm a 5 oz. bottle.
---
Diono Warm "N Go Bottle Warmer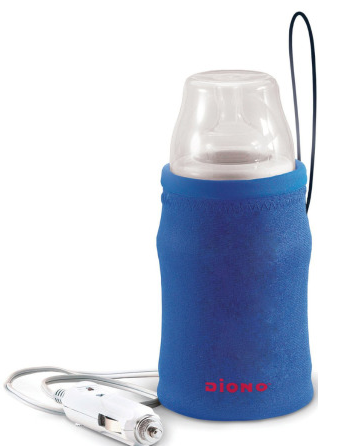 This is another option to parents spending a lot of time in the car with their little ones or those planning a longer road trip. Diono's warmer similarly to Munchkin's device works on electricity from car's cigarette lighter socket. In contrast to its counterpart, however, it does not feature a timer or the ON-OFF button. You simply plug it into the socket and it works. It may seem straightforward but this may also be problematic if you forget to unplug it.
To protect the content of the bottle it comes with a special thermal fuse that would prevent it from overheating the precious milk. Diono claims that this car bottle warmer works "up to 50% faster than others" and can warm the bottle in 10 minutes. According to many parents who bought it on Amazon it actually take around 20 minutes to warm a wide neck plastic bottle and about half of this time for glass bottles. Several users also noticed that this warmer works faster with wider bottles. This would make sense as they fit much tighter into the neoprene sleeve and thus the contact between the bottle and the heating element is closer.
Durability issues
Diono Warm "N Go bottle warmer is faster than Munchkin's device and slightly cheaper but there is an important fact to be considered. Diono's warmer has been repeatedly reported to break just after several uses.
Video presentation of Diono Warm "N Go Bottle Warmer
Pros:
Relatively quick as for car bottle warmer;
Comes with a rubber band (can be used to hang it in the car);
Low price.
Cons:
No timer and no switch button;
Durability issues.
---
Prince Lionheart On-the-Go Bottle Warmer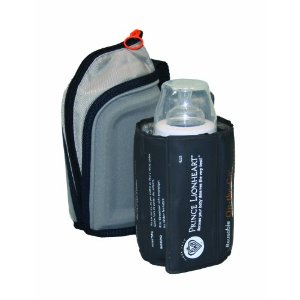 Prince Lionheart bottle warmer is a convenient solution for parents who want to be able to have warm milk ready no matter if they are in the car, shopping mall or in the park. The device uses special gel to generate the heat. No electric socket nor is required which makes you really independent from the location you may use it. It is also very easy to use; all you need to do is wrap a pouch containing a special gel around the bottle and press a little metal disc to activate the gel. As the gel solidifies it produces heat. There is no pouring of boiling water involved. Once activated, the pouch can be inserted into a neoprene case (provided) and you can carry it with you. This makes it even more portable. The case comes with a velcro tape to secure it for example to the frame of a stroller.
Efficiency
It's a very easy to operate and ultimately portable warmer but it's not particularly efficient. In fact some users use it solely to maintain the temperature of the warm milk they take from home than as a warming device. The gel can generate heat for up to 3 hours but the temperature is not too high. Therefore if you are after a travel warmer that can quickly warm chilled milk you may be disappointed.
It does quite well with room temperature milk, yet it still takes about 20 minutes to warm the milk.
Plan ahead
The pouch with gel after each use needs to be boiled to be reactivated. Thus before you decide to take this bottle warmer with you, you should think about it in advance.
Video presentation of Prince Lionheart On-the-Go Bottle Warmer
Pros:
Easy to operate;
Ultimately portable (you can activate it and warm the milk on the go).
Cons:
Gel requires reactivation so you need to remember to boil it before using;
Not very efficient in warming milk.
---
WarmZe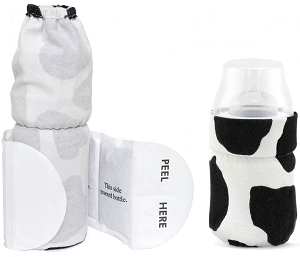 Similarly to aforementioned prince Lionheart bottle warmer WarmZe also uses chemical reaction to warm up the milk. It does not, however, require reactivation of its heating elements so no boiling and scrupulous planning is needed. The reaction is air activated and straps containing heat generating crystals are disposable. Anytime you need to go out with your baby you can just take the bottle and the warmer.
WarmZee is also ultimately portable which means that both preparation and warming can be done on the go. This means that you don't have to sit on the bench in the park or at the restaurant every time you need to warm up the bottle.
Efficiency of this bottle warmer
Similarly to prince Lionheart this solution is not particularly efficient in warming up chilled milk. It is probably even slower than its competitors. However, it can hold the temperature for up to 12 hours! This means that during the whole day out you will use just one warming strip. Most users recommend using it for warming room temperature milk. As the warming temperature is around 100 F and stays constant over time this means that it's perfect for feeding the baby. You can put the bottle into the warmer well ahead of the time when it's needed and you will have it ready to use.
Running cost
Because the warming strips are disposable this is the most expensive solution in the long run. The strips can be bought separately in packs of 4 directly from the manufacturer (see warmze.com). They cost $12.99 (4 pack).
Video presentation of WarmZe
Pros:
Keeps temperature for up to 12 hours;
Does not need water, electricity or pre-boiled pouches with gel;
Extremely easy to operate.
Cons:
Not very efficient in warming cold milk;
Higher running cost than other warmers.