Most babies start to use sippy cups between the age of 6 to 12 months. This correlates with them being able to hold objects firmly in the hands and coordinates between hands and mouth. A sippy cup is a great training cup that enables the baby to self feed. Sippy cups are designed for kids who can already hold a cup but are not yet skilled enough to spill its content. There are many different sippy cups on the market that are widely praised by happy parents. If you are looking for the best sippy cup out there make sure you prioritize your requirements. As the idea behind introducing it is to prevent spillage a quality sippy cup should be leakproof. Other features that you may also consider are:
ease of cleaning and assembly

;

durability

;

price

.
Most popular sippy cups
Munchkin Click Lock Sippy Cup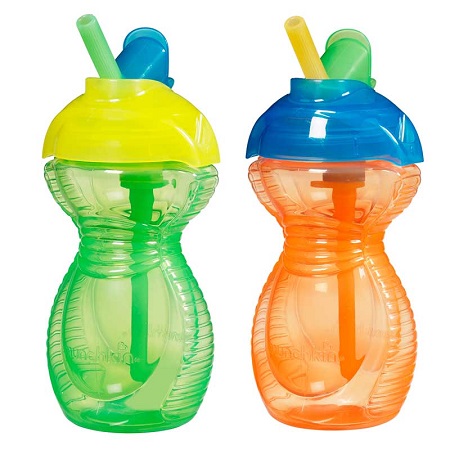 This cup comes with Munchkin's innovative leak proof technology called Click Lock. This mechanism facilitates proper sealing of the cup so that you know exactly when the cup is safely tightened. At the same time mechanism is child proof as it's to hard for a baby to unscrew the cap and can easily withstand being knock from a high chair to a hard floor. Additionally, the straw prevents leaking, even when the cup lays on its side which is a bless when you find a sippy cup several days after if was left under the couch and its content is inside not on your carpet.
Pros:
low price;
four different color options;
reliability.
Cons:
this is a "straw cup" so there are more pieces for cleaning and assembly.
>Check discounted price of Munchkin's Sippy Cups on Amazon<
---

Playtex TrainingTime Soft Spout Cup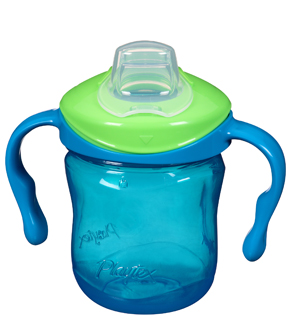 This sippy cup features soft handles that are easy to grip by the baby. It has been desiged in consulation with pediatrician and feeding specialist. The Playtex cup not anti-leak technologies involve a Twist 'N Click Technology similar to the one present in Munchkin cups as well as a special patented valve that prevents spillage from the spout. Its also the soft spout that makes is particularly good for younger babies. In fact this is probably the best sippy cups for babies who are trying cups for the first time.
Pros:
particularly good for transitioning from the bottle due to soft spout;
no leakage thanks to Twist 'N Click feature and the valve;
low price.
Cons:
no measurement on the side of the cup.
>Check discounted price of Playtex Sippy Cups on Amazon<
---



OXO Tot Sippy Cup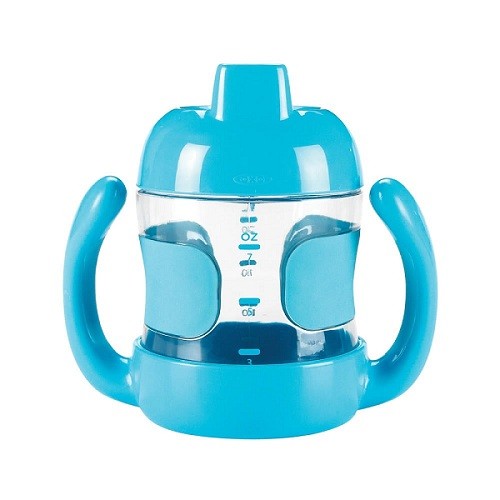 Thanks to its unique construction and interchangeable parts this sippy cup grows with the baby. It can be easily transformed from a sippy cup to a training cup to a regular cup by changing the lid. The lid for younger babies has a hard spout that is 100% leak proof thanks to the silicone valve. At this stage of baby's development the grip may not be strong enough to hold a cup so the non-slip handles make things easier. They are also ergonomically shaped not to strain baby's wrists.
As the baby grows handles can be removed and when the time comes the sippy cup lid can be replaced with training cup lid. It looks like a regular cup but features a see-through membrane that limits the flow of the liquid and thus minimizes spilages if something goes wrong. As the membrane is clear the baby can see how the liquid moves inside the cup which helps to train hand coordination. Once the baby is fully competent with using the cup the membrane can be easily removed and a training cup transforms into a regular cup.
Pros:
can be easily transformed into a training cup and ultimately into a regular cup;
high quality materials and stylish design.
>Check discounted price of OXO Sippy Cups on Amazon<
---
Nuby Flip n' Sip Cup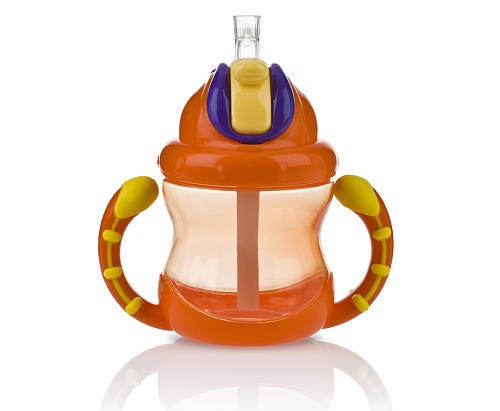 This straw cup comes with a flip top that slides open when needed and prevent leakage when closed. Thanks to this feature this cup can be safely transported in a diaper bag without a risk of spillage. The internal straw makes it possible to drink from this cup when held in an upright possition so it can be used even by babies who are not strong enough to rise the cup themselves. Younger babies may also take advantage of attached handles that thanks to textured surface offer firm and slip-free grip. As most toddlers don't use them they can be easily removed.
Cons:
straw = more parts = more cleaning
>Check discounted price of Nuby Sippy Cups on Amazon<
---
ZoLi BOT Sippy Cup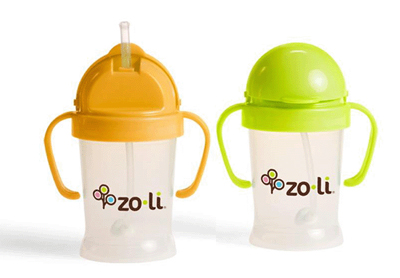 ZoLi cup is the only straw cup that can be drank from not only when it's being held upright but also once held inverted. The elastic weighted straw follows the liquid inside the cup. This is particularly important for some babies that are transitioning from the bottle and are used to holding the bottle themselves. ZoLi cup domes with a flip top thus can be securely transported in a diaper bag. It also features integrated handles and is available in five color options.
Pros:
great for babies who are used to drinking from a bottle;
excellent customer service.
Cons:
as all straw cups there is more parts to clean.
>Check discounted price of ZoLi Sippy Cup on Amazon<
---
NUK Hello Kitty Silicone Spout Learner Cup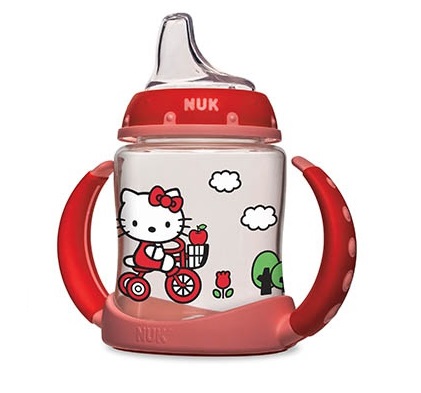 This sippy cup features exceptionally soft silicone spout which can be a huge advantage for younger babies with sensitive gums. It comes with removable handles that are rubberized and textured in order to provide a firm grip even for untrained, tiny hands. The valve built into the spout makes the liquid to flow only when the baby sucks. It will not leak, even when inverted.
Pros:
removable handles
silicone spout – no leak, very flexible
high quality materials
>Check discounted price of NUK's Sippy Cup on Amazon<
---
Pura Kiki Stainless Steel Sippy Bottle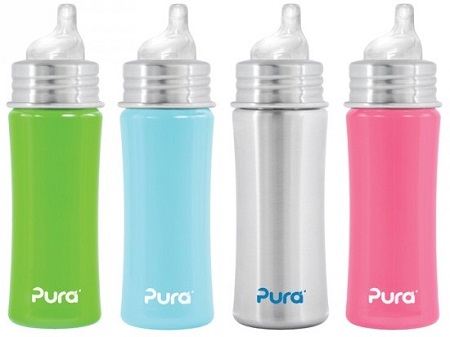 These bottles are more expensive than an average sippy cup but it's the durability, quality and safety that is included in the price. They are 100% plastic free which means that there is not only no risk of BPA and Phthalate exposure to the baby but also no risk of contamination with any other agents present in plastic that may still be unknown to be harmful. The bottle comes with a silicone spout that is easy to drink from yet is well sealed and does not leak even when the bottle is on its side or upsidedown. Being made of steel this bottle can withstand a lot of abuse, is resistant to being thrown and dropped.
The downside of the materials used is that its impossible to see the liquid inside. There are, however, clearly visible markings (in both oz and ml) on the inside of the bottle that helps to measure the amount of liquid being poured into it.
Pros:
safe;
durable;
can serve both as a baby bottle and a sippy cup (nipples and spouts are interchangeable).
Cons:
Can't see through the bottle.
>Check discounted price of Pura Kiki bottles on Amazon<
---