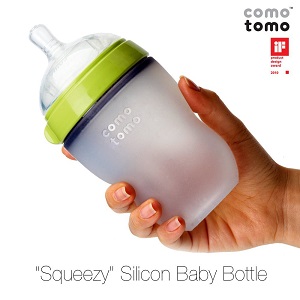 After the first glance you would know that Comotomo bottles are unique. But this is not just the look. The advanced technology behind them and the mechanism they work is equally impressive. Being made of silicone they not only feel pleasant in your hand but can also be squeezed if needed. The ergonomic design makes them easy to wash and assemble while the quality of materials provide durability. In most customer reviews Comotomo bottles are praised for their shape, nipple design and mechanical resistance of the bottle.
Nipple design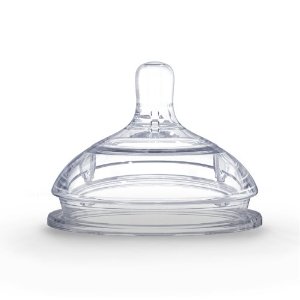 The nipple is soft and flexible which not only promotes proper latching but also enables the baby to feed in a natural way using almost 40 different muscles. This makes Comotomo nipples comfortable and easily accepted by babies. Two built-in air vents prevent vacuum formation and thus reduce reflux and colic.
This was the theory. In practice our little tester had no problem accepting the slow flow nipple. He is used to Tommee Tippee nipples which are similar shape. He latched on deeply and clearly enjoyed the feeding.
Ease of Use
As the bottle is made of only three parts (plus a cap) it allows for quick and easy clean. The ultra-wide brim makes the whole bottle accessible and also is very handy when filling the bottle in a hurry (hungry, crying baby rarely has any patience in waiting for a bottle to be prepared).
In my test I had no problem with cleaning the bottles. The wide neck and non-sticky surface enabled thorough and quick clean. I also washed them in a dishwasher. They are said to be dishwasher safe and I haven't notice any discoloration or changes in shape. It is, however, more important how they behave after repeated washes and months of use. According to customers who bought this item on Amazon and used for some time there are no issues with durability and discoloration.
Additional features of Comotomo bottles
About Comotomo Inc.
Comotomo is a new player in a field dominated by brands which produce baby bottles for decades, such as Dr Brown, Tommee Tippee, Medela, Philips Avent or Lansinoh. There is not much information available about the company itself but as its Facebook profile was set up in late 2011 it can be assumed that this was when the Comotomo Inc. was created. On their website they say that they wanted to revolutionize the design of baby bottles as all available models were variations of old and not necessarily optimal design. By utilizing silicone in the core of the bottle they not only provided innovation but also safety and ease of use.
They currently operate in such countries as: USA, China, Canada, Australia, Sweden, Korea, Singapore, Malaysia, Taiwan and Vietnam. Comotomo products are sold worldwide and can be ordered online.
As the main body of the bottle is made of silicone it offers a very firm and non-slip grip. It can be also easily grabbed with small hands of your baby. The bottle can be slightly squeezed if needed and thus you can replicate the let-down reflex at the beginning of the feed. Some babies are so used to it and expect a solid portion of milk just after they start sucking vigorously.
My little bottle tester is too young to hold the bottle with his own hands but he did enjoy the extra milk squeezed at the beginning of each feed. Older babies will definitely have no problems holding Comotomo bottle. The silicone may also be handy when a baby grows up and starts dropping and smashing things on the floor. It will not crack like plastic bottles, nor shatter like glass ones.
Summary of my review
From the mother point of view Comotomo bottles have all you can expect from a high quality baby bottle. Due to their breast like shape they are easily accepted by babies. They are also easy to hold and clean. My son liked the generous "let-down-like" portion when he was most hungry and latched on without a problem.
Comotomo bottles are suitable for moms that solely rely on a bottle but also due to their breast like shape and special mechanism of feeding they are successfully used by breastfeeding moms. In fact they are the best bottles for breastfed babies according to our ranking.
Comotomo bottles in online reviews
As both the company and their bottle are relatively new in the world of baby bottles they are not as popular as more established brands like Dr Brown or Tommee Tippee. However, due to the innovative design of these bottles they gained a lot of attention among parents interested in new technologies. Reviews and opinions by those who used Comotomo products are positive and focus mostly on safety and ease of use.
Available colors and sizes
Comotomo bottles come in two sizes: 5 ounces and 8 ounces. The first one comes with a slow flow nipple and the latter with a medium flow one.
There are four nipple sizes available in total:
0-3 months old babies – "Truly" Slow Flow (1 Hole);
3-6 months old babies – Medium Flow (2 Hole);
6+ months old babies – Fast Flow (3 Hole);
6+ months old babies fed with thicker fluids – Variable Flow (Y-Cut).
These bottles come in two color options. Once the body of the bottle is frosty white the collar rings are either pink or green.
Image of one green and one pink comotomo bottle
They are sold individually, in two, three, four and six packs. The larger the pack the lower the price per bottle.
Comotomo bottle has over 200 five star (out of 5) reviews from Amazon customers and highest overall ranking among baby bottles.
Video presentation of Comotomo bottle
Pros:
mimic shape, feel and action of mom's breast;
enables gentle squeezing to simulate let-down reflex;
very wide opening – easy to clean and fill.
Cons:
Due to rounded shape Comotomo bottle is more prone to tip over than standard bottles.
Some parents complained that the graduations are not clear enough. I disagree with this as they are made on a special translucent patch of silicone.
>Check discounted price of Comotomo bottles on Amazon<
Author: Maria Perrero (proud mother of 1 year old son, working mom)