After decades of being forgotten glass bottles for babies are becoming more and more popular. They were almost completely displaced by their plastic counterparts that are lighter and cheaper. Recent studies, however, indicates that plastics may be harmful for humans. A substance called BPA (Bisphenol A) was lately found to cause cancer and other diseases (1). BPA is only one example of plasticizer (chemical used to increase plasticity) commonly found in plastics. Glass on the other hand is 100% free of any plasticizers, including BPA. As no one wants to take a risk with their babies glass bottles quickly regained a fair share of the market and their popularity grows continuously. Thanks to new technological advances new bottles made of glass only slightly resemble the ones from decades ago. They became lighter, stronger, and what is most important safe.
---
Evenflo Bottles
Philips Avent
Dr. Brown's Bottles

Slow flow;
Molded graduations;
Compatible with Medela pump.

Closely mimics mother's breast;
Effective and easy to clean air vents;
Resistant to sudden temperature changes.

Advanced air venting system;
Work with Medela pump without adapters.
Why glass instead of plastic?
Glass is made of silica sand and therefore it is a natural material. There are no additives or plasticizers that may leak into the liquid that is stored in glass container. Additionally modern glass thanks to improved technology is very resistant to scratches which makes it ideal material for often washed products. Micro scratches that form on the surface of plastic bottles when you brush them make them more and more difficult to wash. They cause food residues to penetrate the scratches. Additionally glass baby bottle can be treated with hot water or even boiled to sterilize as opposed to many plastic ones.
Another great advantage of glass bottles is that they do not change color over time. Many plastic ones after being repeatedly boiled turn yellowish or brownish. There is no danger in it but it does look disgusting.
Important Features of Good Glass Bottles
In terms of design the glass bottles are almost identical to their plastic counterparts. In fact they look identical. If you are about to switch from plastic to glass you will probably see no difference regarding functionality. Take a look at some important factors worth considering when buying baby bottles made of glass:
Shape – you can choose between regular and wide designs. Wide usually comes with special wide nipple to imitate shape of a breast. This may be particularly useful for breastfeeding mothers that occasionally use a bottle and want to prevent nipple confusion.
Size – bottles usually comes in sizes between 4 and 12 ounces. Choose a size depending on the age of your baby.
Nipple – the most popular are regular shape nipples followed by wide nipples and orthodontic nipples. The last ones have obvious benefits and are recommended by many dentists but some babies just won't suck them.
Coating – although the glass used in baby bottles has a very high mechanical resistance some bottles are additionally coated with silicone to retain shattered glass inside in the unlikely event of the bottle being smashed. This medical grade silicone is safe and is used only on the outside of the bottle so it does not contact the milk. Some bottles come with the coating for others you may get a protective sleeve. This features comes in handy in older babies when they start to throw things around. Also the coating or sleeve helps the baby to firmly grip the bottle.
Additional mechanisms – such as air vents. These features varies between manufacturers but nearly every brand already has a mechanism that prevents babies from swallowing extensive amounts of air bubbles with milk.
Which glass baby bottle is the best?
There is no single bottle that would match everyone's needs. Look for features that are relevant to you. If you are breastfeeding a good option would be a wide bottle with a wide nipple mimicking the shape of your breast. For babies up to three months that often get colic make sure the bottle have a air venting mechanism. On the other hand, for older babies you may consider a silicon sleeve just to be 100% safe. If you don't have any special requirements just make sure that the size of the bottle matches your babies needs and pick a reputable brand. A good indicator of the overall quality of the product are customer reviews. If the bottle is widely recommended and there are no issues with that particular design then you may be sure it's solid.
---
Avent Natural Bottles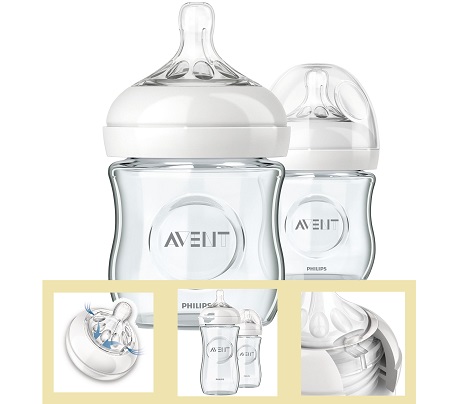 Philips Avent Natural Glass bottles come with wide nipples that imitate breast shape and thus promote proper latching on which is particularly important for breastfeeding mothers. These nipples are made of soft silicone and their design prevents them from collapsing when your baby suck. Avent glass bottles consist of only three parts (plus a cap) so the assembly and cleaning is a breeze. Additionally their wide neck facilitates easy cleaning and filling. They can be sterilized by boiling or steaming and the hardened, premium quality borosilicate glass prevents scratches during washing and makes the bottle resistant to being accidentally shattered when dropped.
Anti-colic valves built into the nipple prevent your baby from swallowing air bubbles and thus reduce colic. Numerous parents also reported the air venting mechanism to work efficiently in conjunction with slow flow nipples significantly reducing reflux in babies. These bottles are also compatible with other Avent Natural accessories including nipples and breast pumps. If you prefer to use Medela or some other pump it is possible with a conversion kit.
The quality of Avent series bottles is guaranteed by the reputable brand and over 30 years of experience in baby bottle production. Avent Natural Glass bottles score impressive 4.4 out of 5 among Amazon customers and also were voted best glass baby bottle in several parenting magazines.
They come in 4 or 8 ounces and are sold individually or in two packs. A silicone sleeve can be ordered separately.
>Check discounted price of Philips Avent Natural Glass bottles on Amazon<
Pros:
non collapsive nipple;
help with reflux thanks to venting system and very slow flow rate of nipples
Cons:
silicone sleeve is not included.
---
Born Free Glass Bottles
Born Free glass bottle is another great baby bottle that comes with excellent air venting mechanism and various flow rate nipples. The bottle comes with included silicone sleeve that provide additional protection. It's facture facilitates slip-free grip. Bottle can be washed and sterilized with the sleeve on which is handy. Similarly to Avent bottles all parts are interchangeable between other Born Free accessories. The adapter will be particularly handy for users of Medela, Lansinoh, Playtex or Ameda pumps.
Interesting feature of this bottle is that you can easily transform it into a sippy cup. These bottles also features wide neck for easy cleaning and scratch resistant surface.
Glass bottles made by Born Free are equipped with patented ActiveFlow Venting Technology developed in cooperation with pediatricians. There is a special disk installed inside the neck of the bottle that prevents vacuum buildup and helps regulating the flow of milk. Thanks to this technology these bottles precisely mimic the behavior of mother's breast and thus reduce colic, spit up and gas. It also facilitates natural flow of the milk and prevents the nipple from collapsing.
Pros:
This bottle is often praised for its high quality and scores excellent customer reviews (over 60 highest scores by Amazon customers).
Cons:
Some customers complained about the venting disk. Although is works spotless it's made of plastic which kind of defeats the purpose of buying a glass bottle. The disk is, however, BPA-free.
Born Free glass bottles come in two different sizes: 5 ounces (with slow flow nipple) and 9 ounces (with medium flow nipple).
Tip: do not tighten the lid too hard as it may cause leaking.
>Check discounted price of Born Free Glass Bottles on Amazon<
---
Dr. Brown's Bottles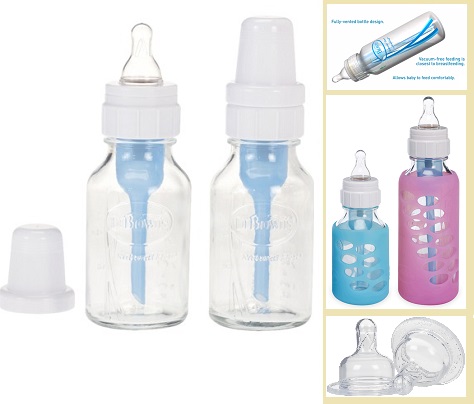 Dr. Brown is a company that has been producing baby bottles since 1996. Their patented technology was designed and developed by a medical doctor. The quality of the product is so high and the venting system so efficient that these bottles have hordes of almost fanatic worshipers. These bottles appeal mostly to parents who are looking for proven and classically designed bottles.
The strongest and also the weakest point of these glass bottles is the Natural Flow® internal vent mechanism. It consist of a special straw inserted into the bottle through which the air travels into the bottom of the bottle once it's inverted during feeding. This way the air does not make contact with milk and air bubbles are not formed. Such design eliminates air bubbles from being swollen and thus reduce colic, reflux and spit ups. Because the air bubbles don't penetrate the milk the internal vent system protects vitamins and other vital ingredients in milk from oxidation.
This excellent mechanism has also some disadvantages. First of all it's made of plastic. Is there much point in getting a glass bottle with plastic parts inside it? In fairness the material is BPA-free.
The shape of the straw makes is it also tricky to wash. To help with this there is a special brush included. Many customers warn that if you don't wash it perfectly mold will develop inside. A regular sterilization is advised. On the other hand the plastic becomes brownish over time after being boiled which makes it look not very appetizing.
Dr. Brown's glass bottles come in 4 ounces and 9 ounces and are sold in two or three packs. Each bottle comes with a 1 stage nipple and a venting mechanism. A cleaning brush is also included. Protective silicone sleeves are available separately. They come in three different colors: blue, light blue and pink. Factured surface of the sleeve facilitate steady grip and the sleeve has great thermal insulative properties keeping the milk warm for long.
This glass bottle work directly with Medela pump and does not require adapters. The connection is not perfect though so you need to keep the bottle stable while pumping to prevent spelling your liquid gold.
These bottles score high 4.3 out of 5 points among Amazon customers. See the reviews yourself here.
Tip: don't leave the venting mechanism dry after use. This will make it very hard to clean properly. Soak all the parts in water or soapy water or clean right after use.
>Check discounted price of Dr. Brown's Glass bottles on Amazon<
---
Lifefactory Glass Baby Bottles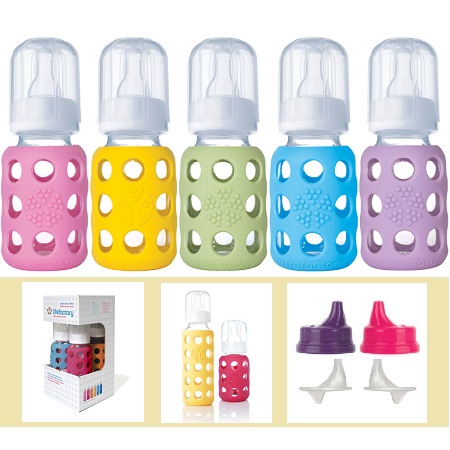 Similarly to Dr Brown's bottles these come with a silicone sleeve. The silicone sleeve not only provides extra protection and cushion for the bottle but also enables firm, slip free grip. Bottles can be washed and sterilized with the sleeve on. The sleeves are available in ten different color options: grass green (only for 9 ounce bottles), lilac (only for 4 ounces bottles), ocean blue, orange, pink, raspberry, royal purple, sky blue, spring green and yellow.
These bottles feature simplistic easy to clean and assemble design which also makes them less prone to leakage than other bottles. They are made from borosilicate glass which makes them resistant to thermal shock (you can safely transfer them from freezer to a bottle warmer without a risk of breakage).
They do attach to the Medela pump, but not perfectly. If they're tighten too much, they'll leak. For me, that is ok, and a lot better than pumping into plastic, then pouring into glass.
Once your baby grows you can transform this bottle into a sippy cup with a special cap. There are also flat caps available to transform this bottle in a snack container.
Pros: variety of colors to choose from, come with silicone sleeve.
Cons: lack of air-venting mechanism.
>Check discounted price of Lifefactory Glass Baby Bottles on Amazon<
---
Evenflo Glass Bottles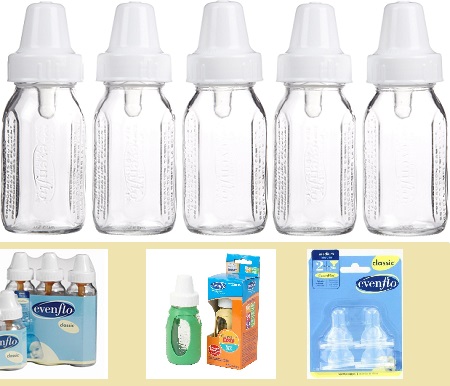 Evenflo bottles are a particularly good choice for newborns and young babies. They come with a very slow flow and small nipple. Special micro venting technology not only prevents colic, reflux, gas and reduce burping but also help keeping the flow at a slow and steady rate.
These bottles feature a cool, retro design and are stylized to look like bottles used decades ago. Molded markers on the side of the bottle enables measuring the amount of liquid inside and will not disappear after few washes in a dishwasher.
These bottles are very popular mainly thanks to their extraordinarily low price especially when bought in six packs. If you're after the best bang for your buck Evenflo six packs works around $3 per bottle and is definitely the best deal on glass baby bottle you can get.
They come in 4 or 8 ounces and are sold individually, in three packs and six packs. Silicone sleeves are available separately.
Evenflo bottles works perfectly with Medela pump without adapter. They also are compatible with Medela and Dr Brown nipples.
Pros: great value for money, fit Medela and other pumps.
Cons: contrary to Avent bottles these are not made of borosilicate glass, therefore avoid sudden temperature changes (these bottles cannot be transferred from freezer onto the bottle warmer). Evenflo also recommends not to use bottle warmers with these bottles.
>Check discounted price of Evenflo Glass Bottles on Amazon<
---
Summary of the glass bottles review
Based on structural and functional features it is safe to say that the best glass baby bottle is Avent Natural. It also scores highest reviews and is free of any plastic elements inside the bottle. If your top priority is colic reduction you may want to try Dr Brown's bottles as their venting system is most advanced and highly recommended by other parents. Lastly if you're after quality glass bottles and are on a budget check out the Evenflo six packs.
References: