Breast milk can be stored in room temperature up to 8 hours, in refrigerator up to 5 days and in freezer even up to 12 months (according to CDC). If you are planing to store your breast milk it is crucial to clearly label portions of milk with a date and amount of milk they contain. An easy way to organize your breast milk stock is to use storage bags. There are several great breast milk storage bags on the market. All of them contain more or less convenient in use labels on which you can write. Let's be honest – storage bags are not most complicated things on earth. There are, however, some important differences between them. They may look similar but subtle differences in materials and design have huge impact on their reliability and performance. A good storage bag for breast milk:
do not leak;
is easy to fill and empty;
can be easily stored in a freezer (preferably as flat as possible so you can stack them on top of each other).
These are the most important features. There are also some additional qualities that can make one storage bag more appealing for you such as: biodegradability, ease of labeling or clear markings for the volume of milk inside.
Why people use breast milk storage bags?
they take less pace in the freezer than a bottle;
milk thaw faster in the bag (important factor when holding a hungry screaming baby).
Most popular storage bags for breast milk
HoneySuckle Bags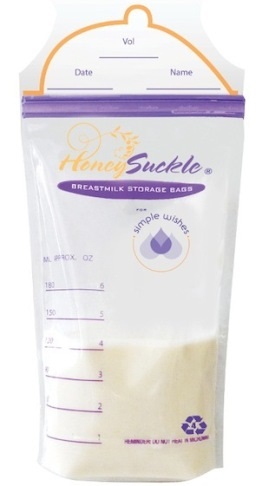 These bags are made of thick and high quality BPA-free plastic which is also biodegradable. They feature reinforced bottoms that prevent leaking and two zip lock seals. The measurements on the front of the bag go up to 6 oz but if you are not planning to freeze the bag you can overfill it. I found that they hold 8 ounces easily. After trying freezing and thawing 50 of them I had 2 leaks (both times after thawing the bag) which is a good result. Wide opening of Honeysucle bags makes them easy to fill and their quite large size enables to easily flatten them for storage when filled with 6 ounces of breast milk. This definitely is the most eco-friendly option and also great on your pocket.
>Check discounted price of Honeysucle bags on Amazon<
---
Medela Bags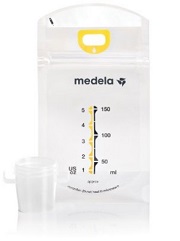 For those who use Medela breast pump you may it may seem obvious to just buy their storage bags. They can be used directly with the pump and have accurate graduations of the front. However, due to several issues you may want consider other bags. In my test 7 out of 50 leaked. All of them from the bottom corner. The seams of the bag are very tiny and this may make them very fragile. These bags are also notoriously difficult to pour the milk from due to the little holes in the upper part of the bag (used for attaching the breast pump). I was faced with an option to pour the milk holding the bag side wise and loosing some (a lot!) milk due to the narrowing at the end of the zipper lock or spilling the milk through the holes.
They are also quite expensive.
>Check discounted price of Medela bags on Amazon<
---
Tommee Tippee storage bags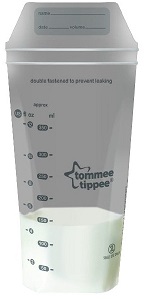 These have the biggest capacity of all breast milk bags I used. They can safely hold up to 12 ounces of milk. Tommee Tippee storage bags come with a double zipper and are made with thick plastic. The zipper is very strong which provides secure lock but also can cause some problems. Out of 50 tested bags I damaged four while opening the zipper (once I pulled on both sides of the bag it opened and the bag tore down the side). I won't write what happened to the milk as it still bring tears to my eyes. Two other bags leaked on the side after thawing them. Overall they may be a good choice if you plan on storing large amounts of milk but just be careful when opening them.
UPDATE: These bottles have been recently discontinued by manufacturer
---
NUK Seal 'n Go Breast Milk Storage Bags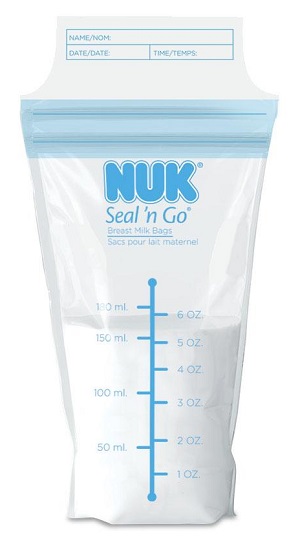 These self-standing bags are made of thick, high quality BPA-free plastic. In fact those are the thickest bags I tested. They have large seams that makes them less prone to leakages after being stored in the freezer and a reinforced bottoms for stability and protection.
In my test none of NUK's bags leaked which says a lot about their quality and reliability. The large area for notes offers plenty of space to label the bags. It's worth mentioning that NUK's Seal 'n Go bags are bestsellers in most online stores due to exceptionally low price.
You can often get them on Amazon for about $7 (50 bags).
>Check discounted price of NUK's bags on Amazon<
---
Dr Brown bags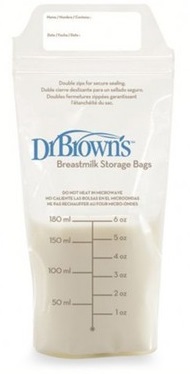 Dr Brown's storage bags are made of thick and sturdy BPA-free plastic. These self-standing bags have double zipper seals that prevents any leaks. Dr Brown's bags are also very well marked for for accurate measurement on the front and feature a large label area on the top. They are not cheapest but are well made and come from reputable manufacturer. Two out of 50 leaked in my tests. Both after thawing.
>Check discounted price of Dr Brown's bags on Amazon<
---
Philips AVENT Breast Milk Storage Bags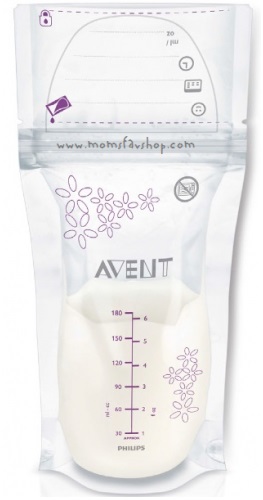 Avent says that they hold 6 ounces while in reality I was able to comfortable pour 8 into them and still store them flat. They have exceptionally generous seams which along with thick plastic ensures durability. In my test none of the bags leaked and I'm not surprised as you would really have to try hard to break it.
The label area is large which is additional bonus. What is unique about Avent bags is that the label part of the bag can be easily torn off. This enables you to pour the milk directly from the zipper area of the bag and reduces the chance of accidental spillage of your liquid gold.
These BPA-fee bags are definitely worth a try if you're planning to freeze your milk.
>Check discounted price of Avent bags on Amazon<
---
Summary
It's hard to unequivocally state which company make the best breast storage bags. Bags by HoneySucle, NUK and Avent made best impression on me. First ones would be a great choice for more eco-oriented parents while those made by Avent seems to offer best protection for the precious content. I chose NUK bags purely because excellent value they offer at such a low price.
Tips for storing breast milk:
never refreeze breast milk;
store breast milk in the center of the refrigerator or freezer not on the door – less contact with warm air;
never thaw in the microwave – use warm water or bottle warmers;
store milk in smaller quantities – less waste if unused.