Top 3 Manual Breast Pumps
Spectra
Philips Avent
Lansinoh

Small and lightweight;
back flow protection.

Efficient and reliable;
Only six elements.

Designed with comfort in mind;
High quality materials.
Qualities of a Good Manual Breast Pump
Efficiency

 – A quality pump will drain your breasts faster. Expressing milk in not a race but a well-designed device will have much more efficient mechanism. A well thought out design can make it a breeze while flimsy mechanism will turn your pumping sessions into a never ending ordeal. As with manual pump you need to do all the pumping with your hand you definitely want the pump that won't put unnecessary strain on your palm. High efficiency of the pump is not only important for your pumping experience but also for your health and ability to breastfeed. When using poor quality, inefficient pump you may spend so much time expressing that your nipples becomes sore and this will make breastfeeding very uncomfortable and painful.

Reliability

 – The pump should be durable.

Ease of Use

 – Good manual pumps are easy to assemble and easy to operate (easily and firmly fit your breast).

Ease of Cleaning

 – This is important for both safety (milk stays fresh and is not contaminated with leftovers from previous pumping) and convenience (well-designed models take much less time to clean).

Discreetness and Portability

– most people prefer to lift weights in the gym not carrying them around so the pump should be lightweight. Similarly not everyone wants to advertise their pumping intentions with the whole neighborhood or an office floor, so it also should be quite small.

Safety

 – This is obviously the most important characteristic. It is listed at the end just because virtually all pumps from major manufacturers are safe to use.
Our Reviews of Popular Manual Breast Pumps
Avent Comfort Pump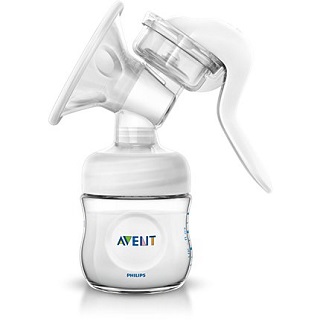 Most mothers don't complain about excess of time, so Avent made sure the cleaning process of their pump is a breeze. Putting this pump apart really takes seconds and all the parts are easy to clean. This pump consist of only 6 of them! That is right, the whole pump is made of only six elements so its assembly do not require you to hold a PhD in "Complex and Sophisticated Pump Engineering". This also means that there are less parts that can break, get displaced or go missing. Reliability is in fact the main factor this pump is recommended my many midwives and is praised by satisfied customers.
>Check discounted price of Avent pump on Amazon<
The compact and stylish design makes Avent Comfort not only looks neat but also makes it super portable. As it's also very lightweight there would be no problem to take it with you for a walk, social meeting or to work. All these, plus the ultra-quiet operation makes it a top choice for women looking for a device offering maximum privacy. The shape and small size of the Avent pump enables you to easily operate it with one hand. As many users reported, it can be used simultaneously with breastfeeding when your baby is latched on your second breast. Despite being small it can produce powerful suction if needed. It can empty your breast in comparable time to the electric pump and is often used as a sole pump even by women expressing 5-6 times a day.
A huge advantage of this pump is that you can collect milk directly into glass Avent Natural bottles (best bottles according to many magazines and reviews – for more info see our review of glass bottles). This way your baby will not only be fed from a glass bottle but also your milk will be stored in a glass container. There will be no unnecessary contact with plastic. After recent discoveries of BPA detrimental effects growing number of parents abandon plastic bottles altogether and sales of glass bottles triples on a year to year basis.
The weak side of this pump is that after some times of heavy use every day it may start producing squeaky noise. In such cases Avent recommends applying some vaseline or regular nipple cream on the handle part where it attaches to the suction piece.
>Check discounted price of Avent pump on Amazon<
Video review of the Avent Manual Breast Pump
Pros:
compact design makes it very portable,
powerful suction if needed yet comfortable is use;
efficient – often used by women expressing several times per day;
fits Avent Natural glass bottles.
Cons:
may develop squeaky noise over time – apply some vaseline.
>Check discounted price of Avent pump on Amazon<
---
Medela Harmony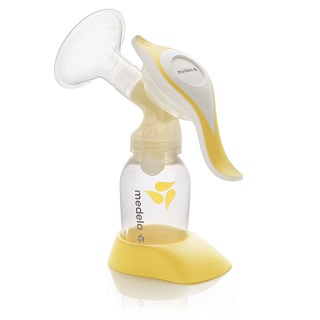 Medela is a very well established company producing high quality baby products. It's best known from its renowned breast pumps. In fact you had probably heard the name Medela before you knew what breast pump is. Their electric pump in a leader in its category (see our review of electric pumps). Surprisingly the manual model has some flaws and doesn't stand a chance with strong competitors. Harmony's meticulous design backed with hard scientific data enables for two two-phase expression pumping which increases efficiency. This two-step expression system mimics the sucking pattern of a baby. This in turn triggers the milk letdown reflex. All of this results in you being able to pump more milk in shorter period of time.
>Check discounted price of Medela Harmony on Amazon<
The construction of the pump makes is also easy to clean as only few parts are in contact with breast and milk. Many moms are also happy with the level of comfort this pump offers and strong suction, which reduces the time needed for pumping. On the plus side there is also a fact that the parts are interchangeable with the electric version. Most baby bottles are compatible with this pump so you can pump directly to the bottle. If you are using bottles that don't fit Medela pumps look for adapters (available for almost any bottle type).
Now the negative side of this pump. Although it comes from a very reputable manufacturer a number of customers complained about its reliability. Two major issues are repeatedly being reported: rotation of a small plastic element inside the handle and frequent (few times in each pumping session) displacement of the o-ring inside the handle. In both cases the pump loses suction. Those are usually easy to fix and only require fitting the parts correctly again. Nonetheless, as those problems happen frequently it may be frustrating. Medela Harmony is not designed for people who are going to exclusively bottle-feed. Medela makes is very clear that this is a pump for occasional use. It will not sustain a milk supply. Also some mothers find it very hard to operate with one hand.
Video review of the Medela Harmony pump:
>Check discounted price of Medela Harmony on Amazon<
---
Tommee Tippee Closer to Nature Pump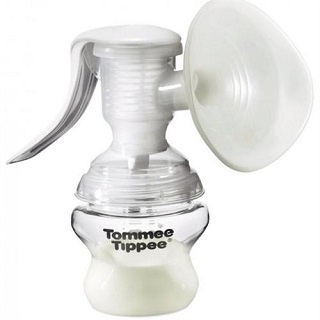 Tommee Tippee makes great baby products. They are famous for their stylish and affordable baby bottles and nipples. The manual pump they released comes in a great box that also serves as a sterilizer. It also helps to keep all the parts together once you dissemble the pump. Contrary to the box however the pump itself is a disaster. It looks like they made it just to compliment the range of product they offer.
Tommee Tippee pump looks cheapish and works this way. It requires special training and skills to make it produce proper suction. You need to have a black belt in pumping in order to make the flange fit your breast and seal properly. Once you achieve this the pump starts squeaking. Many dissatisfied customers summarizes battles with this pump as an ordeal and do not recommend buying it. As there have to be some pros of any product the best think about this pump is that it is compatible with the excellent Tommee Tippee bottles. If you're looking for a great sterilization box with a terrible pump inside this is a great choice.
>Check discounted price of Tommee Tippee Pump on Amazon<
---
Ameda One Hand Breast Pump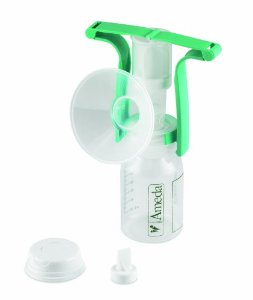 Since 1942, Ameda has been perfecting breast pumps. Their product is of such a high quality that it was even awarded by the Germans (German award of Design-Innovation Quality). Ameda's pump operates flawlessly and is easy to clean and assemble. The compact design makes is portable and discreet. Many customers also praise it for durability as it lasts for months and still looks and works like new. In terms of its shape Ameda manual pump really stands out. For some it looks modern for others awkward nonetheless it really is unique. This patented design provides ease of operation and enables pumping with one hand. It may take you some time to get used to using it one handed, but once you nail it you can breastfeed and pump at once. The Ameda pump is not as efficient as Avent or Lansinoh but offers smooth operation and is very reliable.
>Check discounted price of Ameda Manual Brest Pump on Amazon<
Video presentation of Ameda Manual Brest Pump:
The pump comes with:
two replacement valves (very durable and most moms never needed them),
two 4 oz bottles,
two bottle caps (two pieces),
standard 25 mm flange (other sizes are sold separately but this one can work with any breast size),
NoShow Premium™ Disposable Nursing,
Pads 2 Sample Pack,
Store'N Pour™ Milk Storage Bags 2,
Sample Pack,
Tote Bag,
printed manual.
You can use this pump with most standard neck bottles (such as Medela or Playtex but not wide neck Avent bottles). Several moms reported issues with squeaking, but vaseline applied onto the joints helped in each case.
Cons:
may be tiring in use, therefore primarily recommended for occasional use.
sometimes squeaks – this can be easily rectified with vaseline.
>Check discounted price of Ameda Manual Brest Pump on Amazon<
---
Lansinoh Manual Brest Pump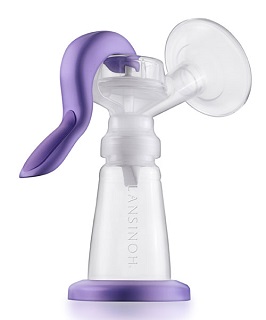 Lansinoh has been producing high quality products for breastfeeding moms for over 30 years now. They have a deep understanding and expertise in this field that enabled them to create a very high quality and effective pumps. The manual pump by Lansinoh is one of the top sellers in most internet shops around the world. It comes with a special silicon cushion that create a perfect seal between the flange and your breast. The ComfortSeal™, as its name suggest, was also designed to provide optimal comfort during your pumping sessions. Many moms reported this pump to work excellent with various breast sizes. It is particularly recommended for women with large breasts and large nipples. Expression rate can be easily adjusted simply by adjusting the pace at which you squeeze the lever. By speeding up the pace and reducing the depth you pull on the lever you can also easily stimulate the ejection reflex.
>Check discounted price of Lansinoh Manual Brest Pump on Amazon<
Video presentation of Lansinoh Manual Brest Pump:
The Lansinoh manual pump comes with:
two milk storage bottles,
two flat lids (two-piece lids – you can remove the center piece and install a nipple),
cleaning brush,
two replacement valves,
two Lansinoh storage bags for breast milk,
Cover/base – the flange cover works as support for the bottle for extra stability when placed on a flat surface.
This pump consists of slightly more parts than its Philips and Medela counterparts. The cleaning also takes longer and has to be done very thoroughly. Several customers reported problems with suction once the pump elements are assembled before being perfectly dry. Another issue with this pump is squeaking that according to many customers appears after some time. This probably can be eliminated by application of some vaseline as described above. Lansinoh customer service is silent about it, which is surprising as they usually are very helpful.
Video review of the Lansinoh Manual Breast Pump:
Pros:
High quality materials;
Customer service is very responsive and quick to respond. In fact, many customers stay with Lansinoh predominantly due to their excellent support.
>Check discounted price of Lansinoh Manual Brest Pump on Amazon<
---
Dr. Brown's Manual Breast Pump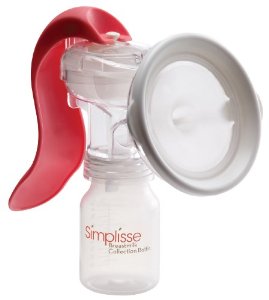 Dr. Brown is another company that should really focus on what they do best, and they do excellent bottles and nipples. Their manual pump looks good and fits nicely in the hand. Many moms reported that it has the most comfortable flange among all the pumps they used. This silicon cushioned breast-cup is really soft and easily adjust to the shape of a breast. It's not however, the most reliable mechanism. There are a lot of complains about suction issues. It seems that durability is also not the strongest point of this device as numerous customers reported breaking the top part of the handle which rendered the pump inoperative.
>Check discounted price of Dr Brown's Manual Brest Pump on Amazon<
---
Summary
Although it's hard to select a leading device when choosing among products from such trusted and renowned companies as Medela, Lansinoh, Philips, Ameda etc. but there can only be one winner of the "best manual breast pump contest". In our opinion the best manual pump is Avent Comfort due to its reliability, efficiency, ease of use, comfort of operation and lack of major flaws.
---
Reasons to Use Manual Pumps
they are very portable thus enable expressing at work, on holidays etc.
they are quiet and won't wake up a baby at night. This also makes them discrete.
they weigh only few ounces and are small which makes them easy to carry in a handbag etc.
they may suit mother's personal preference – some mothers feel more comfortable using manual pumps.
they can be very efficient.